Make the most of your shopping experience by creating
an account. You can:

Access your saved cars on any device.
Receive Price Alert emails when price changes,
new offers become available or a vehicle is sold.



Not registered? click here
Discover the Aston Martin DBX 2021: A Luxury SUV
Are you yearning for a luxury vehicle that combines the sophistication of an executive car with the thrill and spirit of sports cars? The 2021 Aston Martin DBX is here! This powerful, all-wheel-drive SUV was designed to satisfy your inner adrenaline junkie. Boasting superior torque and tremendous grip, it will surely make cruising feel like you're on the racetrack in no time!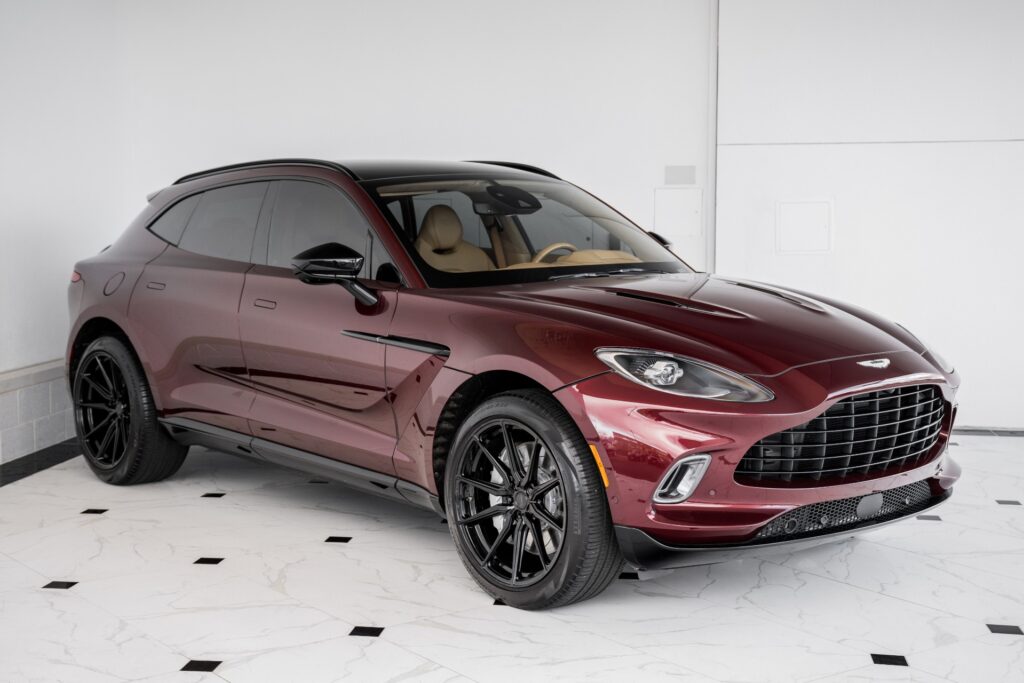 This beautiful ride is perfect for people who want to make a statement without sacrificing style or who want high-performance thrills wrapped in sleek interiors and alluring silhouettes. Find a reputable, certified dealer, such as the Aston Martin Washington DC, to purchase a new or pre-owned vehicle, and get behind the wheel today—your once-in-a-lifetime adventure awaits.
The Aston Martin DBX 2021's Power and Performance
The 2021 Aston Martin DBX has a twin-turbocharged 4.0-liter V8 engine that produces an impressive 542 horsepower and 516 lb-ft of torque. Power is transmitted through a nine-speed automatic transmission to an all-wheel drive system, allowing the DBX to reach 0-60 mph in just 4.3 seconds and a top speed of 181 mph. The DBX also comes with a Sport mode that tweaks the powertrain to provide better acceleration and sharper handling, so you can experience the thrill of driving a sports car while still riding in an SUV.
The 2021 Aston Martin DBX Exterior Design
A sports car manufacturer created the 2021 Aston Martin DBX, which stands out from other luxury SUVs thanks to its distinctive and eye-catching exterior design. Here are some of its standout exterior features:
Athletic Profile
The DBX has a low, sleek roofline that tapers down to the rear, giving it a sporty and athletic profile. It also has a wide stance and sculpted bodywork, emphasizing its performance capabilities.
Signature Grille
The honeycomb-patterned signature grille of Aston Martin dominates the front of the DBX, which is also home to modern LED headlights. The grille gives the SUV a bold and powerful presence.
Flush Door Handles
When not in use, the door handles on the DBX slide flush into the bodywork. This gives the SUV a clean and streamlined appearance, reduces drag, and improves aerodynamics.
Aerodynamic Features
Several aerodynamic features on the 2021 Aston Martin DBX help the car go faster and use less gas. The air curtains in the front bumper guide the air around the car, reducing drag and improving efficiency. The rear spoiler improves the way air flows over the back of the car, which reduces drag and makes the stability control system work better at higher speeds. The DBX has an active diffuser and active underbody panels that help reduce lift.
Wheel Options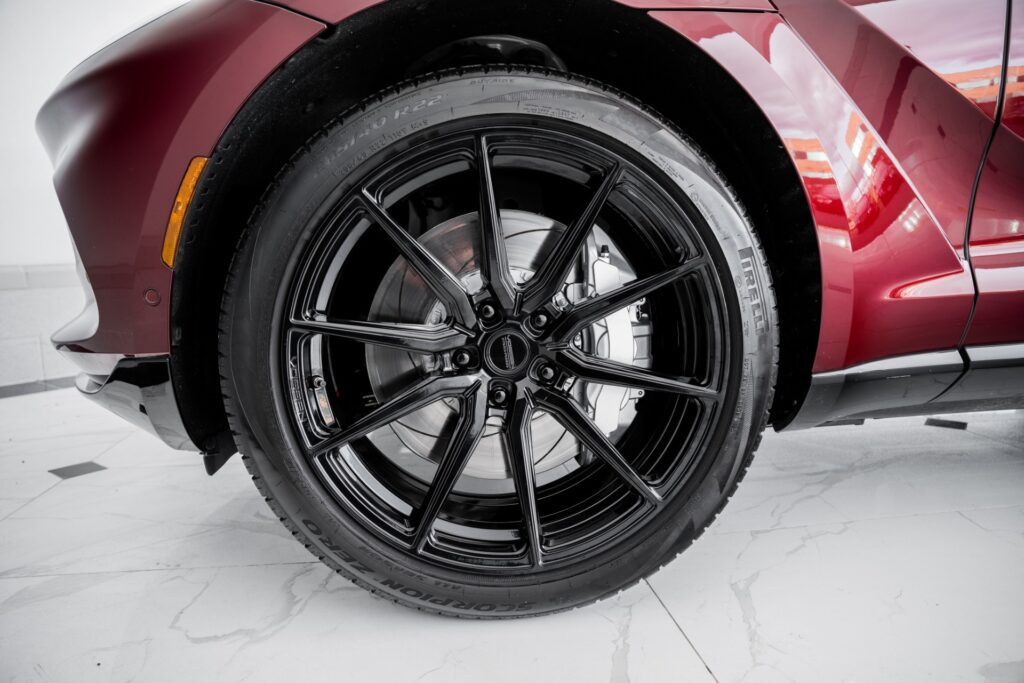 The 2021 Aston Martin DBX has a range of wheel options to match its driver's individual style and preferences. For those who seek a more performance-oriented look, the DBX can be fitted with 22-inch alloy wheels in several finishes, such as graphite or silver. These wheels add to the SUV's sporty aesthetic and improve grip and handling.
Aston Martin DBX Interior Design 2021
The 2021 Aston Martin DBX has a luxurious and high-tech interior that is meant to give drivers the best possible ride. Here are some of its standout interior features:
Handcrafted Materials
The 2021 Aston Martin DBX is made with high-quality materials, like the best leather and plush Alcantara for the interior. The seats are hand-stitched with precision for a perfect, stylish, and comfortable finish. The dashboard with amazing steering wheel controls, center console, and door panels features real wood trim and metallic accents, adding elegance to the interior.
Advanced Technology
This Aston Martin sports car is full of high-tech features, such as a 10.25-inch infotainment system, a 12.3-inch digital cluster, and a 360-degree camera system. The infotainment system supports both Apple CarPlay and Android Auto, while the instrument cluster can be customized to display a variety of information.
Spacious Cabin
The 2021 Aston Martin DBX has a roomy interior so that passengers can sit comfortably. Thanks to its generous legroom and headroom, it can accommodate up to five adults. Additionally, the rear seats can be reclined for added comfort. The cargo space is also generous, offering plenty of room for luggage and other items.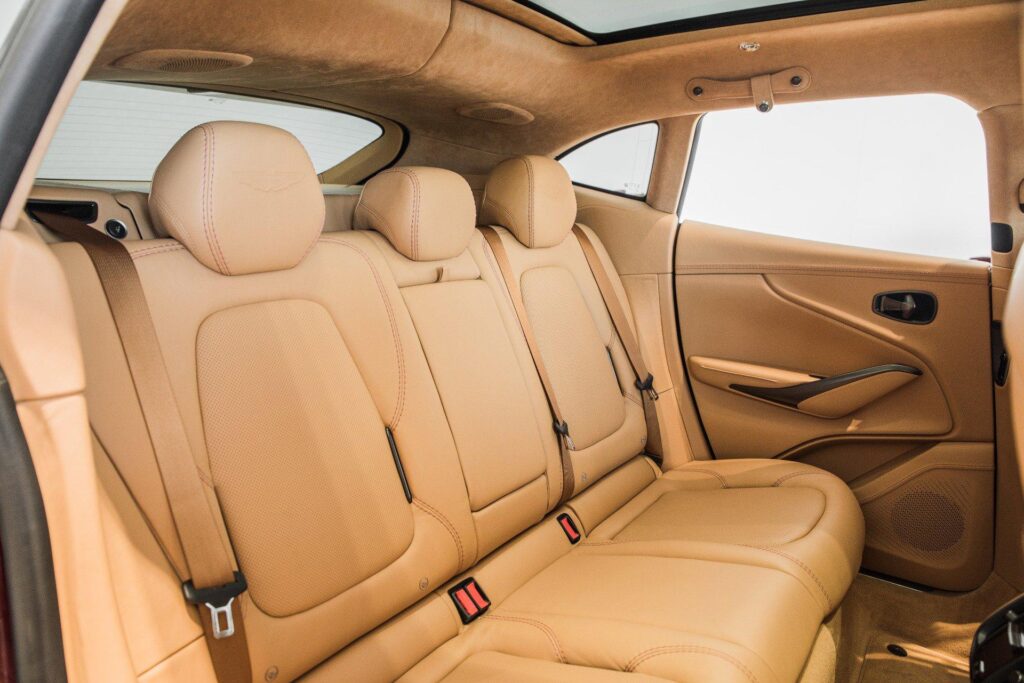 Comfort Features
The DBX has many comfort features, such as seats that can be heated and cooled, a panoramic sunroof, and a climate control system with three zones. The air suspension system also helps provide a smooth and comfortable ride.
Safety Features
The safety of the Aston Martin DBX has not been overlooked. The vehicle has many features that guarantee top-notch protection for all riders. Adaptive cruise control, a lane departure system, and automatic emergency braking all help to avert any potential dangers on the road. And as an extra layer of security, the SUV has a 360-degree camera system that gives drivers a comprehensive view of their car's whereabouts at all times. So jump into your Aston Martin DBX with confidence and focus on the open road.
The Top 5 Most Interesting Facts About the 2021 Aston Martin DBX
The First Aston Martin SUV
The 2021 Aston Martin DBX is the first SUV made by the British luxury car company. It is a big step for the company and gives drivers a combination of speed, luxury, and style that has never been seen before.
A Luxury SUV Price Tag
Initially, the test vehicle's price was not identified. Now it can be found with a base price of $192,086. This price aligns with the more expensive luxury vehicles on the market and gives buyers access to the latest in performance, luxury, and technology.
Borrows Lots of Technology and Features from Mercedes-Benz
The 2021 Aston Martin DBX borrows lots of technology and features from Mercedes-Benz. The SUV is powered by a 4.0-liter twin-turbo V8 engine sourced from Mercedes-AMG. It comes with advanced driver assistance systems such as adaptive cruise control, lane keep assist, and automatic emergency braking.
Official 2021 Formula 1 Medical Car
The 2021 Formula 1 Medical Car is a one-of-a-kind vehicle that is very important to the sport. The medical car is used to transport medical personnel, such as doctors and paramedics, to accidents on the track during a race.
The Segment's Shortest Car with Magnificent SUV Performance
The 2021 Aston Martin DBX is the shortest car in its class, but it drives like a great SUV. The DBX's low center of gravity and rigid body structure ensures excellent handling, stability, and agility when driving. The SUV features an efficient aerodynamic design that helps reduce drag and improve fuel efficiency.
Is it Worth Buying A 2021 Aston Martin DBX?
The 2021 Aston Martin DBX is an excellent choice for those who want a luxurious and powerful SUV. With its advanced technology, performance-oriented features, and iconic style, the DBX stands out from the competition. It is definitely worth considering if you are in the market for an upscale vehicle with plenty of features to offer. Though the price is slightly higher, you will get a luxurious experience.
Get Your 2021 DBX Today at Aston Martin Washington, DC!
Here at Aston Martin Washington DC, we have a great selection of DBXs that are perfect for anyone looking for a luxurious, high-performance car. We highly recommend stopping by our dealership to take a look at our inventory and speak with one of our knowledgeable sales associates. They will happily answer any of your questions and help you find the perfect Aston Martin. You can also get financing, trade-in options, and maintenance services at any time. So what are you waiting for? See us today or contact our sales team.