Make the most of your shopping experience by creating
an account. You can:

Access your saved cars on any device.
Receive Price Alert emails when price changes,
new offers become available or a vehicle is sold.



Not registered? click here
Unleash Your Inner Racer With The 2022 Aston Martin Vantage
Are you prepared to go behind the wheel and experience the thrill of an Aston Martin Vantage? This iconic luxury car has been a road fixture worldwide since its release. Now that the 2022 model has been released, you can step up your game and truly unleash that inner racer within!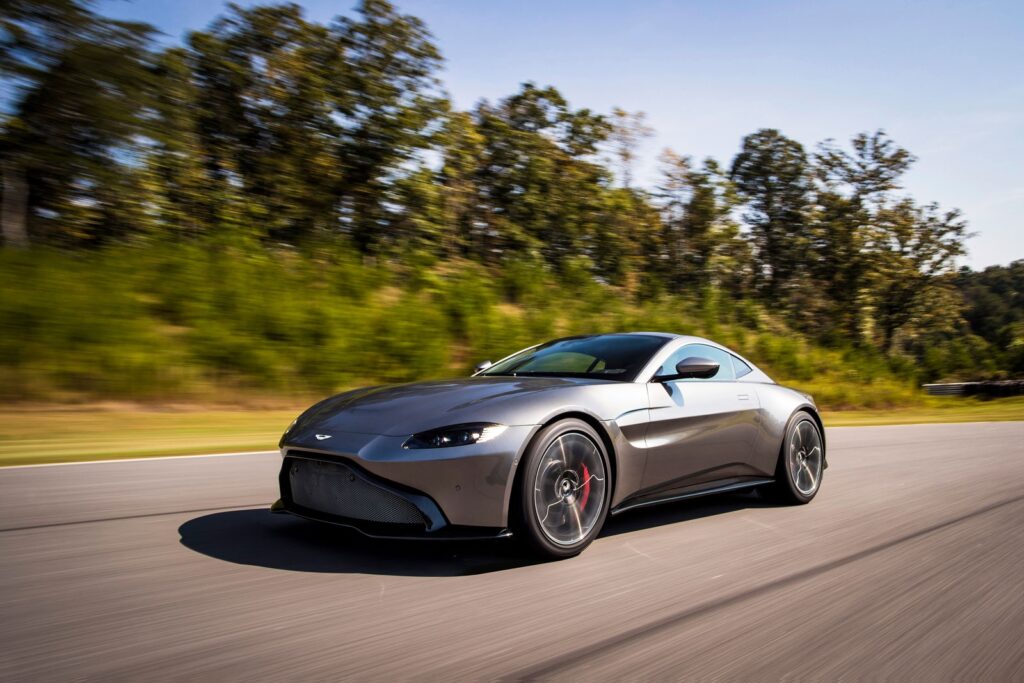 With its sleeker styling, improved performance, and heightened comfort and convenience features that come standard, there's no better time than now to make the coveted Aston Martin yours. Buy the certified pre-owned 2022 model from us today with the lowest mileage and in absolutely perfect condition. You can check the vehicle history and other parts for your peace of mind. Buy it now from the trusted dealer, Aston Martin Washington DC, and feel the rush!
Overview of the 2022 Aston Martin Vantage
The 2022 Aston Martin Vantage is the perfect car to help you show off what you're made of. With its powerful engine, best fuel economy, and streamlined design, this high-performance sports car will take your driving experience to an amazing, trendy level.
Exterior Design
Experience a stylish and genuinely remarkable drive with the 2022 Aston Martin Vantage. Its aluminum panels, black grille, and body-colored front and rear bumpers with colored accents create an unforgettable exterior look. And for additional style and convenience, you'll find 20″ 10-spoke silver alloy wheels paired up with Pirelli P Zero tires. Auto on/off projector-beam LED low/high beam headlights equipped with a daytime running auto-leveling delay-off feature ensure maximum illumination while driving in any light conditions, not to mention its clearcoat paint job, which guarantees that classic shine will last from here until eternity.
Interior Design
The 2022 Aston Martin Vantage has a lot of luxury and comfort features inside that can be adjusted to fit your needs. The front sport bucket seats with memory settings can be adjusted electronically in 8 ways, and the power tilt/telescoping steering column makes it easy for the driver to find the best position. The modern look is emphasized by interior trim pieces like metal-looking instrument panel inserts, carbon fiber/leather door panel inserts, and aluminum accents. Plus, you'll always want to stay in your car because it comes with a full faux suede headliner, leather door and seat trim, a complete carpet floor covering, and carpet front floor mats. With the Vantage Interior Design, you'll be able to drive with ease and have a car that looks great and says a lot about you.
Performance and Engine
The 2022 Aston Martin Vantage rear wheel drive is powered by fantastic performance specs to create an exhilarating drive.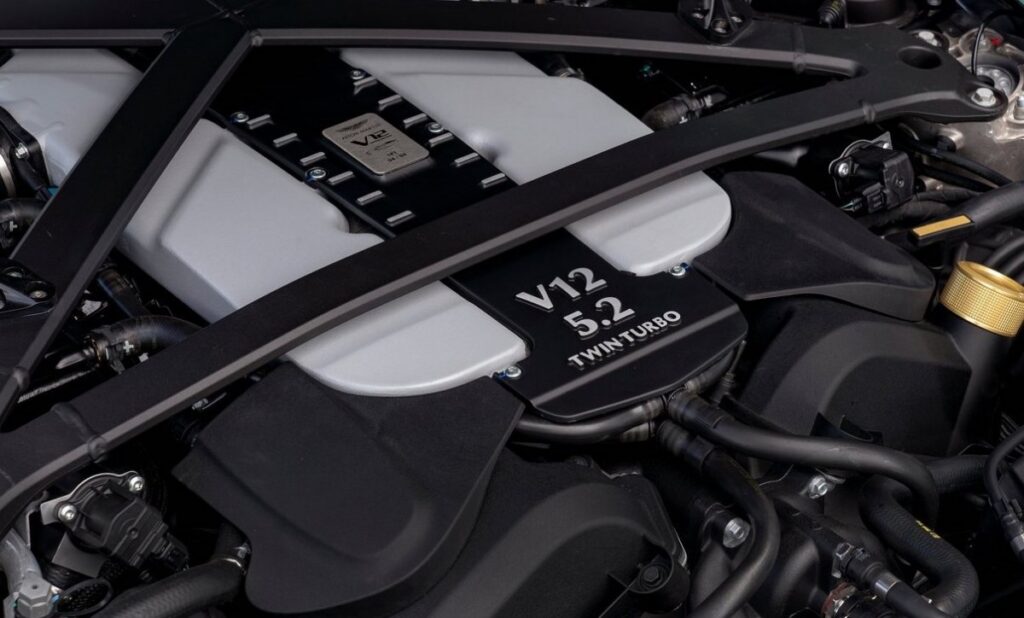 Engine Options and Specs
With its powerful 4.0 liter Twin Turbo Premium Unleaded 8-cylinder engine, complete with Gasoline Direct Injection technology that delivers a roaring 503 horsepower and 505 lb-ft of torque to push it forward, the 2022 Aston Martin Vantage has given petrol heads something genuinely remarkable. As captivating in style as it is in performance, this machine will undoubtedly enthrall you from city streets to race tracks alike!
Top Speed and Acceleration
The iconic sports car romps from 0 to 62 mph in a mere 3.8 seconds, as if it's being launched from a slingshot. No matter what kind of terrain it's on, this vehicle can go up to 190 mph, which is fast enough to give you a rush and is unmatched by its competitors.
Transmission Options
This high-performance car has an eight-speed automatic transmission with gear ratios from 4.71:1 to 0.66:1, plus reverse at 3.32:1, and the final drive axle ratio at 2.93:1. This lets you easily make tight turns and enjoy smooth acceleration in any driving situation.
Suspension and Handling
The 2022 Vantage has a double-wishbone front suspension and a multi-link rear suspension, which give it great control and handling on any road. The front suspension makes it easier for the wheels to move, and the back suspension keeps the car stable at higher speeds. The car also has an Adaptive Damping System (ADS) that lets you change the settings of the suspension for speed, turning, and even comfort.
Driving Experience
The 2022 Aston Martin Vantage is a joy to drive. It's fast, agile, and has excellent handling that will make you feel confident and in control while behind the wheel.
Carbon Ceramic Brakes
Unleash your inner daredevil with the 2022 Aston Martin Vantage! Feel confident behind the wheel no matter what Mother Nature has in store—its four-wheel disc brakes and anti-locking system bring precision braking to any environment. Experience a smooth, secure ride every time you hit the road thanks to 15.7-inch front rotors and 14.2-inch rear brake discs; it's high-octane power ready when you are.
Sound and Exhaust Note
The Aston Martin Vantage has a dual exhaust system made of stainless steel with polished tailpipes to make it look nice. The system's four-pipe design helps to provide a smooth and powerful sound, while the exhaust tips add a sporty flare to the vehicle's aesthetic. No manual transmission leads to no bad noise affecting the environment. With this system, drivers can enjoy a deep, throaty roar that has been fine-tuned to provide the perfect balance of power and sound, reducing road noise.
Customization Options
The Vantage is a vehicle that can be customized to suit your driving style. With its exterior and interior color options, you can create a car that looks as unique as it performs. Additionally, the Vantage offers plenty of aftermarket parts, such as alloy wheels, sports exhausts, custom body kits, entertainment packages like Apple CarPlay, and more, so that you can customize your vehicle to your exact specifications.
Safety and Technology
The 2022 Aston Martin Vantage comes with a host of safety features to keep you secure on the road. It has the latest driver-assist technologies, making your drive easier and cooler.
Advanced Safety Features
The 2022 Aston Martin Vantage sets the standard for car safety with its cutting-edge safety features. This model comes with side impact beams and dual-stage driver and passenger seat-mounted side airbags for further safety in the event of an accident. Dual-stage driver and front passenger airbags are also featured, as is an airbag occupancy sensor that can pick up even the smallest changes when it comes to the front of the car.
Effective outboard front lap and shoulder safety belts with pre-tensioners provide comfort and security. Last but not least, automatic parking sensors, blind spot monitors with lane change warnings (LCW), and electronic stability control guarantee safe handling in all traffic situations.
Driver Assistance Technology
Get ready to rev up your ride with the Aston Martin Vantage. This 2022 model is designed for those who crave luxury and convenience, packed with an array of cutting-edge assistance features such as Aerial View cameras that give you a bird's eye view from above, a 360° backup camera enabling easy maneuvering in tight spots, and Proximity Key technology – making it very easy to unlock your vehicle hassle-free! Plus, added safety measures like the fire flask lock and panic button inject confidence into every journey. Experience driving at its finest—buckle up this summer in one sleek car.
Infotainment and Connectivity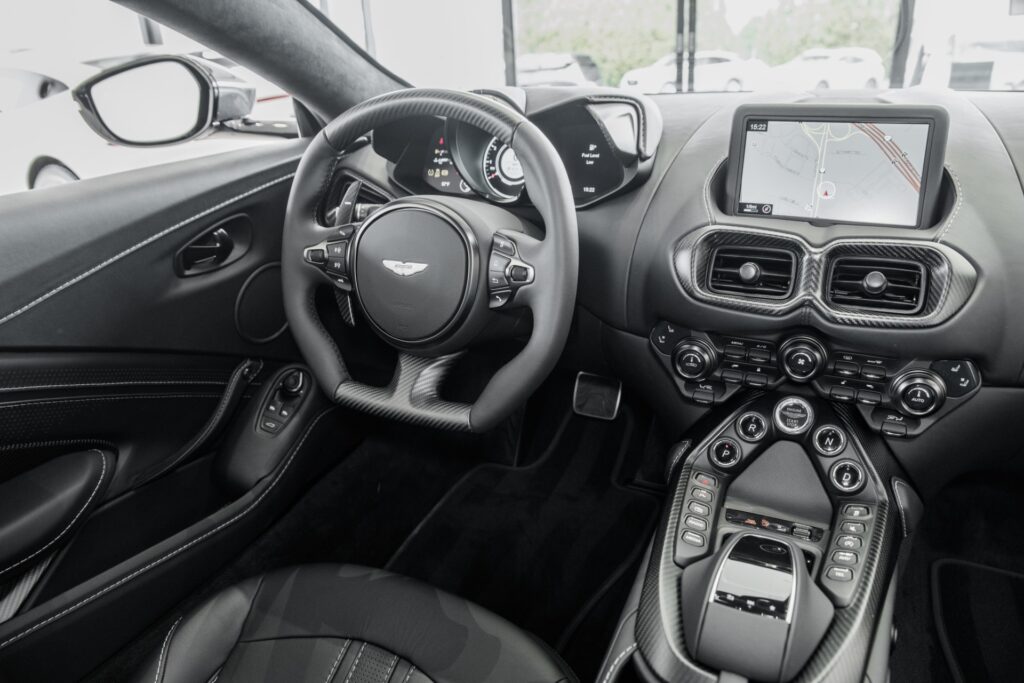 The 2022 Aston Martin Vantage offers an entertaining riding experience like no other. With a dynamic 8-inch LCD screen, iPod, and iPhone integration for effortless music streaming, along with six speakers boosting audio quality, you can go on incredible journeys held together by this sophisticated infotainment package. Smooth Bluetooth connectivity ensures that your friends and family stay in the loop whenever you're behind the wheel of this iconic infotainment system, too. Enjoy endless musical adventures thanks to its top-tier digital radio AM/FM audio infotainment system.
Buy Now the 2022 Aston Martin Vantage At Our Dealership!
The Aston Martin Vantage 2022 has everything you need to make a bold statement on the road and define your style with its elegant design. Come to our dealership and buy yours today—you won't be disappointed! Our experienced staff will guide you through the entire process. From flexible financing options and maintenance services to pre-owned Martin inventory, we will ensure you get the perfect buying experience. Whether you want a V6 vantage coupe, a V6 vantage roadster, or any other model of Aston Martin, our inventory is full of them. So please don't wait any longer; visit us now or take a virtual tour to take your dream car home today.