Make the most of your shopping experience by creating
an account. You can:

Access your saved cars on any device.
Receive Price Alert emails when price changes,
new offers become available or a vehicle is sold.



Not registered? click here
Aston Martin Cars For Sale: Where Luxury Meets Performance
Since 1913, Aston Martin has been making high-end sports cars that are known for their style, performance, and exclusivity. Aston Martin has some of the most famous cars in the world, like the DB11, Vantage, and DBS Superleggera. These cars offer a unique mix of luxury and performance in the car world.
There are various approaches you can take if you want to find a good deal on Aston Martin automobiles. But the best way out is to buy from the dealership. This is where you'll find everything from the newest to the oldest models, exclusive editions, and flexible financing options. One such great place is Aston Martin Washington DC, which offers the best selection, maintenance service, and value.
Is an Aston Martin a Good Car to Buy?
Aston Martin is a luxury car brand that is known for making sports cars and grand touring cars with high performance. The decision of whether or not an Aston Martin is an excellent car to buy will depend on the car's reliability and individual preferences and needs.
For individuals who value style, performance, and exclusivity, Aston Martin is a great option. These cars are known for their sleek and distinctive designs, powerful engines, and luxurious interiors. They are also relatively rare, which adds to their exclusivity and prestige. The car, if kept properly maintained, will stay with you for almost ten years, which is close to the average car's lifespan in the US, which is 12 years.
Popular Models of Aston Martin Cars For Sale
Over the years, Aston Martin has made a number of popular models, each with its own set of features and specs. Here are some of the most popular models of Aston Martin cars for sale:
Aston Martin DB11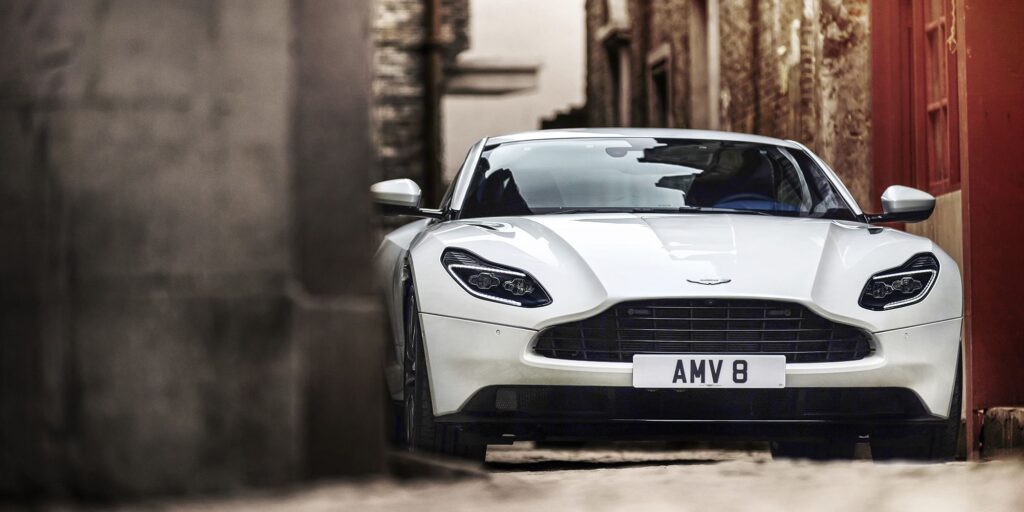 When it comes to power and performance, the Aston Martin DB11 has something for everyone. The V8 model boasts a 4.0-liter gasoline twin-turbo engine, generating up to 528 BHP; however, if that isn't quite enough for you, the V12 model ups the ante with its 5.2-liter gasoline twin-turbo engine, producing 630 BHP. Both have automatic transmissions with eight speeds and different driving modes to make each trip unique. You can hit speeds up to 200 mph in the DB11, making an impressive 0 to 62 mph in just under 4 seconds, no matter which engine option you choose.
Aston Martin DBX
The Aston Martin DBX is the hottest and most sought-after luxury SUV on the market, and it's easy to see why. It provides an incredibly stylish exterior with its 21-inch forged alloy wheels and packs a powerful punch under the hood – its 5.2L twin-turbocharged V12 engine belts out a stunning 600 hp for superior performance. Luxurious and comfortable heated seats for five people make it ideal for families or those wanting plenty of passenger room and legroom. At such an elite price tag, this combination of luxury, performance, and adaptability guarantees that all drivers will appreciate the complete Aston Martin DBX.
Aston Martin Vantage
This model features a 4.0-liter V8 engine, producing 503 HP and 503 lb-ft of torque. With the 8-speed automatic transmission, drivers can reach a top speed of 190 mph. For maximum stability and control, the Vantage also includes a combination of cutting-edge technology like remote starting, adaptive suspension, launch control, dynamic torque vectoring, a navigation system, and an electric power steering system. This makes the Aston Martin Vantage one of the most thrilling cars to drive in its range.
Aston Martin DBS Superleggera
The Aston Martin DBS Superleggera is a luxurious 2D convertible with a strong V12 engine and an automatic transmission with 8 speeds made by ZF. This vehicle comes with an Onyx Black exterior and a Copper Tan interior, making it look and feel like an actual luxury sports car. The combination of the V12 engine and 8-speed transmission help the DBS Superleggera reach a top speed of 211 mph, making it one of the fastest cars in the range. With its beautiful exterior and quilted leather interior, the DBS Superleggera is sure to stand out.
Aston Martin Vanquish
The Aston Martin Vanquish is a stylish grand tourer made for long trips. With the updated aerodynamic package, the power of the AM29 V12 engine in the Vanquish S has been raised to 603 PS. The Vanquish also has the latest version of Aston Martin's Adaptive Damping Technology, which allows you to adjust suspension settings for different driving conditions. The interior is lined with handcrafted leather and Alcantara, and the car comes equipped with a Bang & Olufsen BeoSound audio system.
Aston Martin Rapide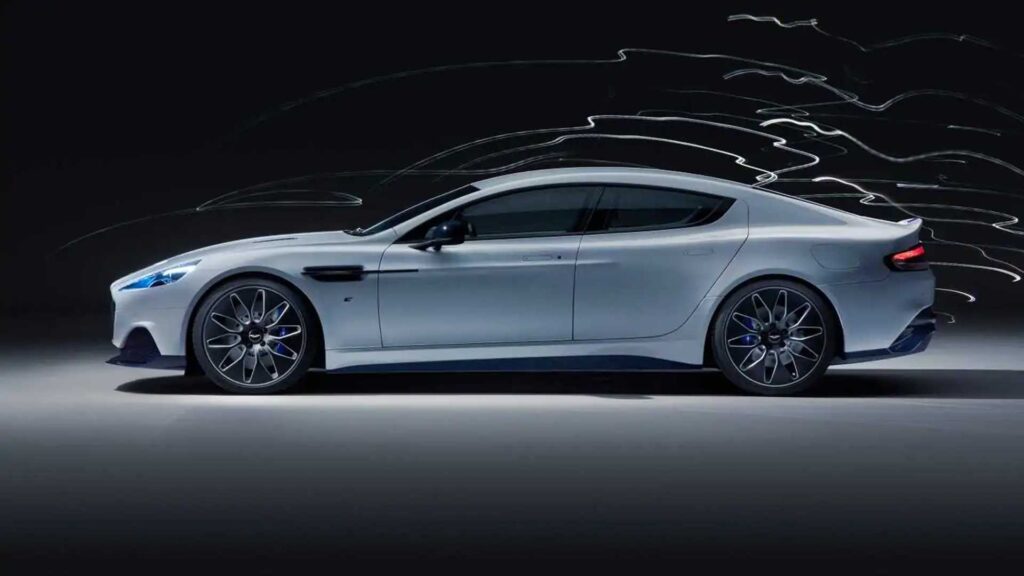 This model is now rarely found on the market, but those who have one will famously tell you it's a grand tourer that drives like a sports car. The Rapide features a 5.9L V12 engine that produces 470 hp and 443 lb-ft of torque, allowing for an impressive top speed of 188 mph. In addition to being powerful, the Rapide is equipped with a range of luxury features, including heated leather seats, adaptive cruise control, a backup camera, and a high-end infotainment system.
Aston Martin DB9
People often say that the DB9 is one of the most beautiful cars ever made. It was first shown at the Frankfurt Motor Show in 2003. The DB9 has a 5935 cc petrol engine. It features the choice of an automatic transmission. The DB9's ground clearance is 120mm, and its mileage varies depending on the model and fuel type. The DB9 has a wheelbase of 2745 mm, a length of 4720 mm, and a length of 2016 mm. It has four seats and a 12-cylinder engine. The GT version of the DB9 boasts 30 more horsepower than the base model, bringing the total to 540 while keeping the same level of torque (457 pound-feet).
Aston Martin Valkyrie
The Aston Martin Valkyrie is a two-seater hypercar with a powerful 6.5-liter naturally aspirated V12 engine paired with an electric motor for insane power. It produces 1155 horsepower and 680 pound-feet of torque from its hybrid system. This allows it to achieve a top speed of 220 mph, making it one of the fastest cars in the world. The Valkyrie also boasts a lightweight carbon fiber chassis and body style, active aerodynamics, race-inspired suspension, and an adjustable traction control system—all designed to maximize performance on the track.
Benefits of Owning an Aston Martin
Owning an Aston Martin comes with several benefits, which include:
Prestige
Aston Martin is a well-known brand of high-end cars with a long history and a reputation for quality, style, and speed. Owning an Aston Martin can give you a sense of pride and status, since it's a sign of success and being a part of a small group.
Unique Design
Every Aston Martin is made with great care and attention to detail, so each one looks and feels different. From the hand-crafted leather interior to the exterior styling, each model offers an individualized style that sets the car apart from other automobiles on the road. From the classic lines of the DB9 to the futuristic styling of the Valkyrie, Aston Martin cars are designed to stand out from the crowd.
High-Performance
Aston Martin cars are built for speed, with powerful engines and high-tech features that make driving them a thrill. Whether you're traveling on the highway or taking your Aston Martin to the track, you can expect high performance and handling.
Exclusivity
Aston Martin cars have a restricted annual output, which raises their value and attractiveness. Only a small portion of the population can afford to buy and drive an Aston Martin due to its high price and restricted supply.
Customization
This great car has a lot of options for customization, so owners can make their cars their own. Aston Martin cars can be made to fit the tastes of their owners, from the colors of the paint to the kind of leather used inside.
Resale Value
Aston Martin automobiles are a wise investment for people who wish to keep the value of their assets high because they often hold their value well over time. The price of an Aston Martin might go up over time, which would be great for your finances.
Potential Drawbacks of Buying a Used Aston Martin
Even though it can be fun to own an Aston Martin, there are some things you should think about before buying a used one.
High Maintenance Costs
Costs for parts and labor to keep an Aston Martin in good shape can be high. Specialized parts that are needed to keep a car running well are often expensive and hard to find, so owners need to plan their budgets accordingly. Also, the used car may need more repairs if bought from a wrongful dealership or from private owners.
High Insurance Costs
Since Aston Martin is seen as a high-end luxury car, its insurance premiums tend to be quite high. In addition to higher liability insurance premiums, collision, and comprehensive coverage may be more costly than on other vehicles.
Limited Customization
When it comes to customization, buying a used Aston Martin may offer a different level of options than buying a new model. Many used models are from earlier generations and feature a different range of features or upgrades than more recent vehicles. Also, older models may have had changes made to them by their previous owners, making it hard to find original parts that can be used to put the car back to how it was when it was new.
Enjoy a Luxurious Ride of Aston Martin Cars With Aston Martin Washington DC
Aston Martin Washington DC is your one-stop source for all things Aston Martin. We offer a wide selection of new and pre-owned Aston Martin cars for sale, as well as expert service and maintenance. Whether you're looking to buy or lease an Aston Martin car, our knowledgeable staff can help you find the perfect vehicle to suit your needs. By purchasing from a trusted dealership like ours, you can ensure all the insurance, warranty, vehicle history, and maintenance privileges that come with owning such a prestigious car. Contact us today to get a fair deal on the Aston Martin for sale and experience the thrill of driving a luxurious vehicle.