Make the most of your shopping experience by creating
an account. You can:

Access your saved cars on any device.
Receive Price Alert emails when price changes,
new offers become available or a vehicle is sold.



Not registered? click here
Aston Martin DB11 Price: Understanding The Costs Of Luxury
Are you ready to indulge in automotive luxury? If so, then allow us to introduce you to the iconic Aston Martin DB11. This sleek and stylish grand touring car is a sight for sore eyes—and its price tag reflects that. However, before your heart rate starts rising over the cost of this incredible vehicle, let's take the time to explore why it carries such an attractive sticker price. From the luxurious features included with every model to some smart financing options available from trusted dealerships across the country, understanding what goes into pricing a DB11 doesn't have to be intimidating.
Starting Strong: Uncovering the Base Price of the Aston Martin DB11
The base price of an Aston Martin DB11 is how much the car costs without any upgrades or extra features. It is the first step in setting up a new DB11 and is used as a starting point to figure out the total cost of ownership.
The base price of the Aston Martin DB11 varies depending on the region and market demand, but as of my knowledge's cutoff date of 2021, it started at around $200,000 in the United States.
Upgrade Your Ride: Aston Martin DB11 Optional Features and Impact on Pricing
The Aston Martin DB11 comes with a number of optional features and upgrades that can make driving and looking at a good car much better. Along with enhancements, there is a slightly higher price tag or additional cost to the base price. For example, if you want to upgrade the sound system, the interior, or the engine and give the car a stronger exterior, it may cost you extra money, and the amount will depend on the customizations you choose. Here are some of the most popular options:
Exterior and Interior Customization
The DB11 from Aston Martin can be customized in a number of ways, both on the outside and inside so that buyers can make the car their own. This includes things like different paint colors, different colors for the brake calipers, different seat materials, different stitching options, a heated steering wheel, or more seats.
Wheels and Tires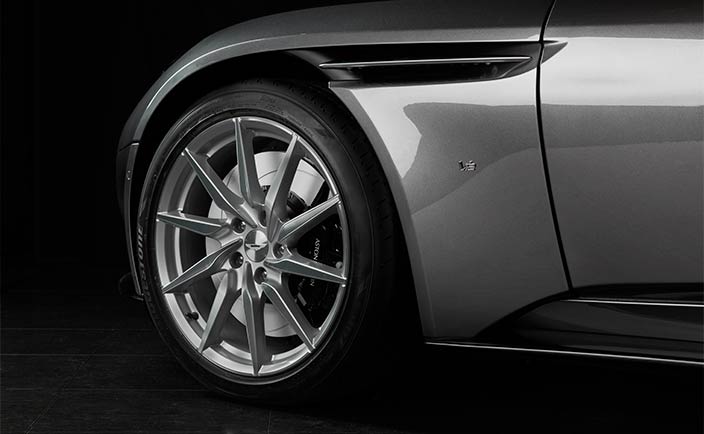 When it comes to wheels and tires, the Aston Martin DB11 offers a variety of options for the front and rear wheels. Depending on preference, drivers can opt for lightweight alloy wheels or classic spoke designs that give the car a classic look. Also, they can choose between 17-inch and 20-inch tires, which makes this rear-wheel drive easier to drive and give it better performance.
Technology Package
The Aston Martin DB11's technology package has a lot of advanced safety and comfort features. Blind-spot monitoring uses radar to find cars or other objects in a driver's blind spot and warns them of the possible danger with both visual and audible alerts. The 360-degree camera system and rear parking sensors increase car safety and give drivers an all-around view of their vehicle and its surroundings to keep a safe distance from other vehicles. The adaptive cruise control system automatically modifies the car's speed.
Premium Audio System
The DB11 already has a great infotainment system, but if you need more power and clarity, Aston Martin offers a premium audio system upgrade. This upgrade adds a 1000W amplifier and 12 speakers so that drivers can hear their music with perfect clarity.
Performance Package
The Aston Martin DB11's Performance Package is made to make the car faster and more fun to drive. The package comes with things like carbon-ceramic brakes, which stop better than regular brake discs and wear down less quickly. The sport-tuned suspension provides enhanced control and handling for high-speed maneuvers, while the limited-slip differential enhances traction and cornering stability.
Convertible Top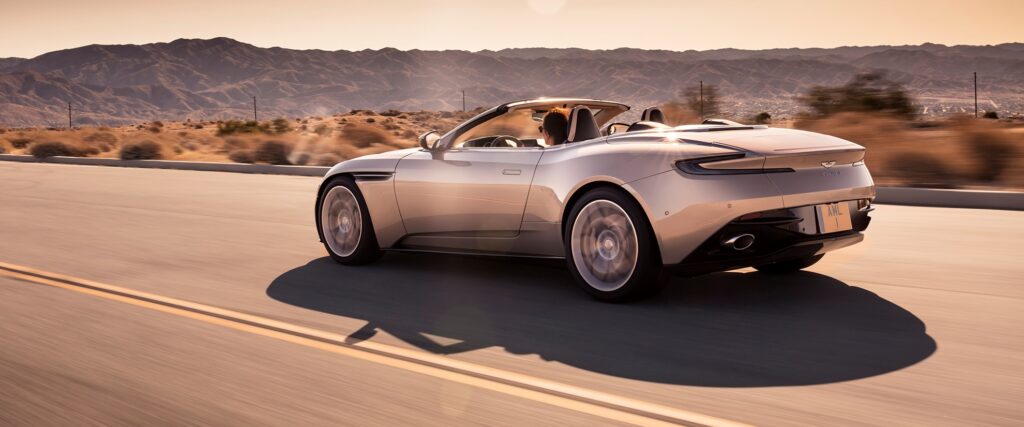 The Aston Martin DB11 Convertible is a luxurious and stylish open-top car that lets drivers feel the wind in their hair. The retractable roof, which is made from lightweight aluminum, can be opened and closed in just 14 seconds. It has a flat shape and an aerodynamic shape that makes it easier to drive at high speeds.
The Price of Luxury: What an Aston Martin DB11 Ownership Costs
Having an Aston Martin DB11 is a luxury that will cost you more than just the price of the car. Here are some of the key costs associated with owning an Aston Martin DB11:
Insurance
Due to the high value of the car, insurance costs for an Aston Martin DB11 can be expensive. The insurance rate depends on where the driver lives, how old he is, how long he has been driving, and other things. It's essential to shop around and compare different insurance providers to get the best rate.
Maintenance
Maintaining an Aston Martin DB11 can also be costly. To keep the vehicle in good shape, licensed mechanics should perform routine maintenance like oil changes, tire rotations, and brake inspections. The cost of maintenance can vary depending on the region and the age of the vehicle.
Repairs
Repairs are inevitable and can be expensive. In the event of an accident or mechanical malfunction, it's important to use Original Equipment Manufacturer (OEM) parts to ensure that your car is repaired correctly. Repairs can be costly, so it's essential to budget for them when considering ownership costs. Due to the high cost of parts and labor, it's crucial to have adequate insurance coverage or a warranty to cover these costs.
Fuel Economy
The Aston Martin DB11 is a powerful and luxurious car, but it comes with a high fuel cost. The DB11 has an engine with an eight-speed automatic transmission that requires premium gasoline to achieve its maximum performance. This means drivers have to pay a higher price for their fuel than those who drive cars in similar classes.
Depreciation
Like all cars, the value of an Aston Martin DB11 depreciates over time. The rate of depreciation can vary depending on the condition of the vehicle, the number of miles driven, and other factors. It's important to factor in depreciation when considering the overall cost of ownership.
Pro Tips: How to Manage the Additional Cost of Ownership?
Here are some ways to keep the costs of owning an Aston Martin DB11 in check:
Shop Around for Insurance
When shopping for insurance, it's important to compare different policies and providers. Find out about the coverage that each provider offers, including any additional optional coverage like weather or roadside assistance, as well as liability and theft protection. Also, take into account the cost of your premium, deductible, payment plans, and any discounts available. By taking the time to explore all of your options, you can find an affordable policy that meets your needs.
Perform Regular Maintenance
Regular maintenance is essential for keeping a DB11 running properly and avoiding expensive repairs. Schedule regular oil changes and tune-ups at least every six months to ensure optimal performance. Additionally, be aware of any recalls or service bulletins that may apply to your vehicle and promptly attend to them. Taking proper care of your Aston Martin will help you protect its value over time.
Consider an Extended Warranty
Aston Martin offers extended warranties on new cars that cover parts and labor costs associated with mechanical failures after the initial manufacturer's warranty expires. If you plan to drive the car past the standard warranty period, you should buy an extended warranty from a dealer. This will protect your wallet from unplanned repair costs and provide you with peace of mind in case of issues.
Drive Responsibly
It's important to practice responsible driving habits when behind the wheel of a DB11 to ensure your and your car's safety. Avoid driving at high speeds, braking hard, speeding up quickly, and doing other things that aren't safe and can lead to expensive repairs or fines from the police. Adopting these safe driving habits can help save money in the long run by preventing unnecessary damage or accidents due to reckless behavior.
Consider Aftermarket Parts
Although they are frequently less expensive than OEM (original equipment manufacturer) components, aftermarket parts nonetheless adhere to the highest industry standards for reliability and quality. If you're looking for ways to reduce ownership costs without sacrificing quality or performance, using aftermarket parts is one way to do so without compromising safety or dependability.
Plan for Depreciation
The depreciation rate for an Aston Martin DB11 is likely higher than average due to its exclusive status symbol status among luxury vehicles, meaning that it generally depreciates more quickly than other similarly priced cars in its class when sold later on down the line. Planning ahead for this depreciation can help owners minimize their losses by understanding the current market value before selling their cars in order to get a better return on their investment.
Get the Best Offer for a DB11 at Our Aston Martin Washington Dealership!
Aston Martin Washington is the premier dealership in the DC area. We have an amazing and wide selection of new and pre-owned Aston Martins, including the DB11. Our team of knowledgeable sales professionals is here to help you find the perfect car for your needs at an average price. Whether you need a 2023 Aston Martin DB11 or an old Martin with customized options like performance tires, an Olufsen audio system, or a better exhaust note, you'll get everything to be a perfect match for you. Check out the consumer reviews and buy one of the best cars in our inventory.