Make the most of your shopping experience by creating
an account. You can:

Access your saved cars on any device.
Receive Price Alert emails when price changes,
new offers become available or a vehicle is sold.



Not registered? click here
Secure, Sophisticated, And Sporty: The Aston Martin DB11
The Aston Martin DB11 embodies sophistication and sportiness with a touch of security. Its luxurious design and advanced car safety features make it an irresistible choice for those who wish to experience the thrill of driving without compromising on comfort and safety. With its robust body structure, advanced security system, and responsive handling, the Aston Martin DB11 offers a truly exhilarating ride with a secure feeling of comfort. If you want it in your life, get it from the best Aston Martin dealership in Washington. We guarantee only the best-in-class customer service and complete care for your DB11. Experience the thrill and power of this beautiful car today!
Overview Of The Aston Martin DB11
The Aston Martin DB11 is a luxury rear-wheel drive vehicle produced by British automaker Aston Martin. It was first introduced in 2016 as a replacement for the DB9, and it's currently available as a coupe or a convertible. The DB11 is a grand tourer with an eight-cylinder transmission designed to provide a thrilling driving experience while delivering exceptional comfort and luxury.
Design And Exterior
Following are the design and exterior features discussed below: 
Body Style And Dimensions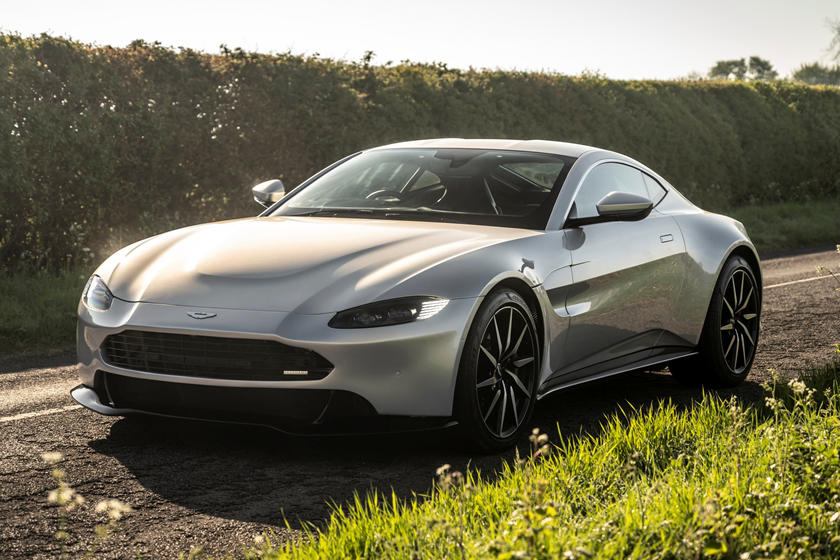 The Aston Martin DB11 comes in both coupe (V8, V12) and convertible (Volante) styles, so drivers can choose between driving with the wind in their faces in a convertible or looking sleek in a coupe. Both models feature a long hood and low stance that give them an aggressive look and make them stand out from other luxury sports cars. The coupe has a length of 4750mm and a width of 1950mm, while the convertible has slightly different dimensions, with a width of 1300 mm and the same length.
Exterior Features And Design Elements
The grille on the Aston Martin DB11 is in the shape of a diamond and is made of stainless steel with chrome accents. The front bumper is made to be aerodynamic so that it drags less air, and the hood vents are also made to be aerodynamic while still cooling the engine enough. LED headlights offer excellent visibility and style, while the sleek side skirts and 20-inch alloy wheels give it a sporty touch. The back of the DB11 has an integrated spoiler that adds downforce at higher speeds and L-shaped tail lights that are a signature of Aston Martin.
Available Colors And Customization Options
The Aston Martin DB11 is available in a wide range of colors, including Obsidian Black, Avalanche White, Cobalt Blue, Onyx Black, and Mariana Blue. The car allows customers to customize it with various options other than colors. The possibilities include trim levels, wheel packages, and styling options. Customers can choose from multiple exterior features, such as carbon fiber hood vents, black mirror caps, tailgate badging, and more. Customers can also customize the interior with leather upholstery, carbon fiber trim pieces, and unique accents.
Engine And Performance
Let's break down the key features of the Aston Martin DB11 related to its engine and performance, which are:
Engine Specs And Performance Capabilities 
The Aston Martin DB11 is available in both V8 and V12 engine options. The V8 has a 4.0-liter twin-turbocharged gasoline engine that produces 528 BHP, while the V12 variant has a 5.2-liter twin-turbocharged gasoline engine with 630 BHP. Both engines come with configurable driving modes and an eight-speed automatic transmission, letting drivers personalize their driving experiences. With either engine, the DB11 can accelerate from 0-62 mph in less than 4 seconds and has a top speed of 190 to 200 mph.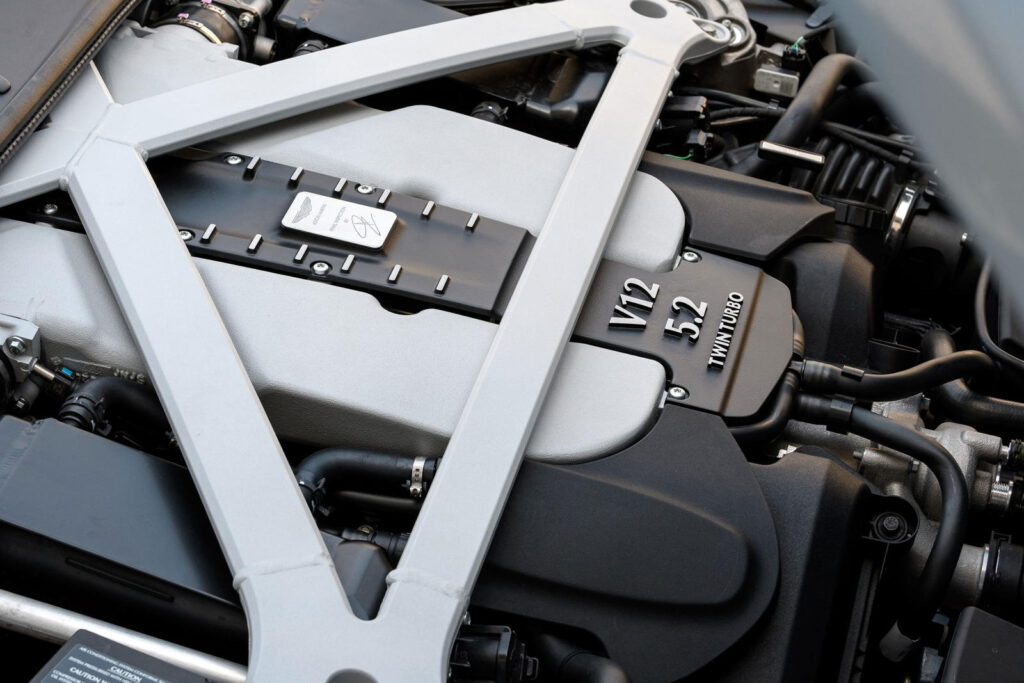 Fuel Efficiency And Emissions 
The Aston Martin DB11 is surprisingly fuel efficient, given its performance capabilities. The DB11 V8 engine has a fuel economy rating of 26 mpg combined, while the V12 offers 24 mpg combined. Both engines also feature low emissions levels of 230 to 265 g/km, making them eco-friendly and compliant with all current regulations.
Interior And Comfort 
The Aston Martin DB11 is made with the best materials and has a luxurious design on the inside.
Cabin Design And Features 
The cabin features a sleek and modern design with leather upholstery, carbon fiber accents, and top-of-the-line technology features. It has heated seats that can be adjusted to give the driver and passengers the most comfort. The front seats are heated and have memory settings, so the driver can save his or her favorite seat position for next time.
An 8-inch infotainment system with Apple CarPlay, Android Auto, satellite navigation, and more are also built into the dashboard. Other features inside the car include a fixed panoramic roof and an optional Bang & Olufsen audio system.
The heated steering wheel is truly a marvel of engineering prowess. Constructed to exacting standards, the wheel houses an electric power-assisted steering rack with a 13:1 ratio and sports completely speed-dependent pinion power assistance, allowing drivers to take corners without sacrificing accuracy or control. On top of these precision and performance factors, the wheel also offers electric column tilt and reach adjustments, giving drivers ultimate convenience and comfort when behind the wheel.
Interior Space And Storage 
The Aston Martin DB11 is a two-door coupe with seating for two. It features ample legroom and headroom for front and rear passengers, making it comfortable for all sizes. The trunk offers 11 cubic feet of cargo space, enough to fit a few small bags or suitcases. The Aston Martin car also has multiple storage compartments throughout the cabin for added convenience.
Safety And Security Features
The Aston Martin DB11 has many safety and security features.
Crash Test Ratings And Safety Features
The Aston Martin DB11 has been put through tough crash tests, and both its performance and safety ratings are at the top. It is equipped with top-of-the-line safety features for an unparalleled driving experience. It features front and rear parking sensors and a 360-degree birds-eye camera to smooth urban and highway journeys. Cruise control, a speed limiter, and tire pressure monitoring help you stay safely within your limits.
Multiple airbags and an alarm and immobilizer system assist the driver even more. Remote-controlled central door locking, trunk release, and blind spot detection add extra layers of safety. To make sure your car is safe, the safety package also comes with a wind deflector, anti-theft systems, and GPS tracking. Whether on the open roads or in tight city spots, the Aston Martin DB11 ensures your ultimate safety.
High-Tech Braking System
Experience the marvel of Aston Martin's DB11 with its industry-leading braking system. This revolutionary system guarantees maximum stopping power by boasting six-piston calipers on the front and four stabilizing the rear wheels. At the same time, its additional eight technologies ensure a smooth ride every time you hit the brakes. Clocking in at top speed safety measures, driving safe, knowing that your vehicle is equipped with superior brake technology—unleashing seamless driving pleasure no matter where you go!
Get Your Aston Martin DB11 Through Aston Martin Washington DC
Aston Martin Washington DC, is the perfect place to find your dream vehicle. With a wide selection of pre-owned models, they have something for everyone. The team is ready to help you choose the perfect model and make your buying experience easy and enjoyable. Visit our website today to schedule an appointment or test drive one of their unique models. Remember that you can also visit our showroom anytime and talk to the experienced staff about all the fantastic features of the Aston Martin DB11. Our flexible financing, extended warranties, competitive prices, and services make it easy to find the perfect car. So, whether you want to use the 2023 Aston Martin DB11 or a previous model, get started with Aston Martin Washington DC today!