Make the most of your shopping experience by creating
an account. You can:

Access your saved cars on any device.
Receive Price Alert emails when price changes,
new offers become available or a vehicle is sold.



Not registered? click here
Experience Luxury And Performance With An Aston Martin DBX 707 For Sale
The Aston Martin DBX 707 is the ultimate combination of luxury and performance. As one of the world's leading automakers, this Aston Martin model has outdone itself with this top-of-the-line crossover SUV. With its powerful engine, sleek design, and luxurious interior features, the DBX 707 offers an unparalleled driving experience for those who crave speed and sophistication. Whether you're looking for a vehicle to take on your next adventure or want something that will make heads turn in town, the DBX 707 delivers all that and more. If you're in search of a car that stands apart from all others on the market today, then look for an Aston Martin DBX 707 for sale.
Key Specifications Of Aston Martin DBX 707
The Aston Martin DBX 707 is a high-performance luxury crossover SUV with the following key specifications:
Engine
The Aston Martin DBX 707 has a big engine that gives it a lot of power. It is called a 4.0 liter twin-turbocharged V8 engine, and it can make 700 horsepower and 664 lb-ft of torque. That's enough to make the car very fast!
Transmission
The Aston Martin DBX 707 is equipped with a 9-speed automatic transmission, allowing drivers to shift seamlessly between gears for maximum control and performance. The transmission features a dual-clutch technology that enables the transmission to switch quickly and smoothly between gears, providing an incredibly responsive driving experience. The 9-speed also offers a wide range of speeds and driving styles, making it a great choice for both city and highway driving.
Top Speed
The Aston Martin DBX 707 is a compelling performance crossover SUV that can reach impressive speeds. The twin-turbocharged V8 engine gives the vehicle plenty of power to reach a top speed of 181 mph. As an all-wheel drive vehicle, it is capable of delivering immense acceleration and power to all four wheels.
Acceleration
DBX 707 is a high-speed and robust car. With its twin-turbocharged V8 engine, the vehicle can reach 0 to 60 mph in just 3.5 seconds. The all-wheel-drive system also allows for improved grip on any surface, helping drivers maintain control at high speeds.
Fuel Economy
The DBX 707 has an estimated fuel economy of 15 mpg in the city and 22 mpg on the highway. It is also equipped with a stop/start system that helps conserve fuel by automatically shutting off the engine when the vehicle is not in use.
Top 7 Coolest Features Of The DBX 707 Every Car Enthusiast Should Know!
The DBX 707 SUV has incredible performance, unmatched comfort, and cutting-edge technology, in addition to an aggressive yet fashionable look that is distinctly Aston Martin. All these subtleties are lovely, but let's get to the parts of the Aston Martin DBX 707 that truly intrigue us, the greatest features!
Rear Spoiler
The modified winged rear diffuser and the carbon fiber extended rear spoiler of the Aston Martin DBX 707 complete its dynamic look. The aerodynamic blades on this rear spoiler are designed to create a vortex of air that is directed toward the back of the car, providing much-needed downforce when accelerating at high speeds. This helps keep the car planted to the ground when cornering, resulting in an unparalleled driving experience.
Larger Alloy Wheels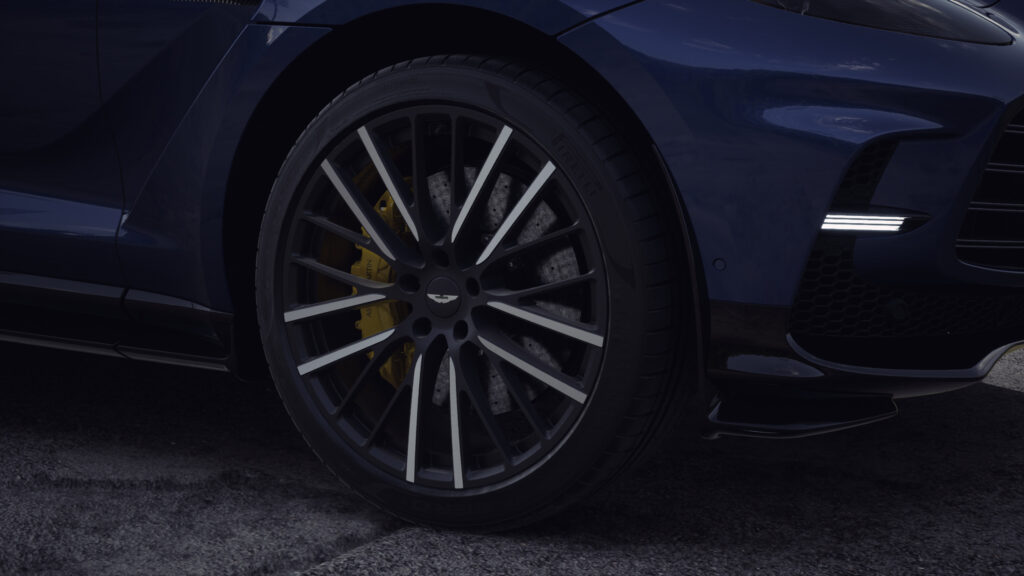 The DBX 707 comes equipped with a set of larger, 23-inch alloy wheels, which give the car an elevated look and further accentuate its strikingly sharp lines, gloss black grill, and rear lamps. The bigger wheels provide added stability to the car when driving at high speeds, as it gives the driver more confidence. Additionally, the larger wheels allow for improved grip and better handling of the heated steering wheel of the car.
Braking Power
At the heart of the Aston Martin, this vehicle lies an incredible brake assist system. Behind its enlarged 23-inch alloy wheels, you will find enormous 420 mm front and 390 mm rear brake discs made of carbon ceramic that boast remarkable stopping power even when traveling at high speeds. The advanced composites used to build these brakes provide superior heat resistance and improved brake fade for the ultimate performance.
Exceptional Center Console
You can select between drive modes, disable the electronic stability control (ESP), enter manual transmission mode, adjust the suspension, and manage the exhausts if you want to go from a peaceful ride to the thunderous V8 audio or the other way around. It all can be controlled from the central console, which is placed in an ergonomic position and elegantly designed.
Multiple Drive Modes
Its driving modes come in five. The "Terrain" mode is intended for off-road driving, the "GT" for maximum comfort while driving, the "Sport" and "Sport+" modes are intended for high performance, and the "Individual" mode gives the driver complete control over virtually every aspect of the vehicle, including the suspension, steering, and exhaust.
Quad Exhaust System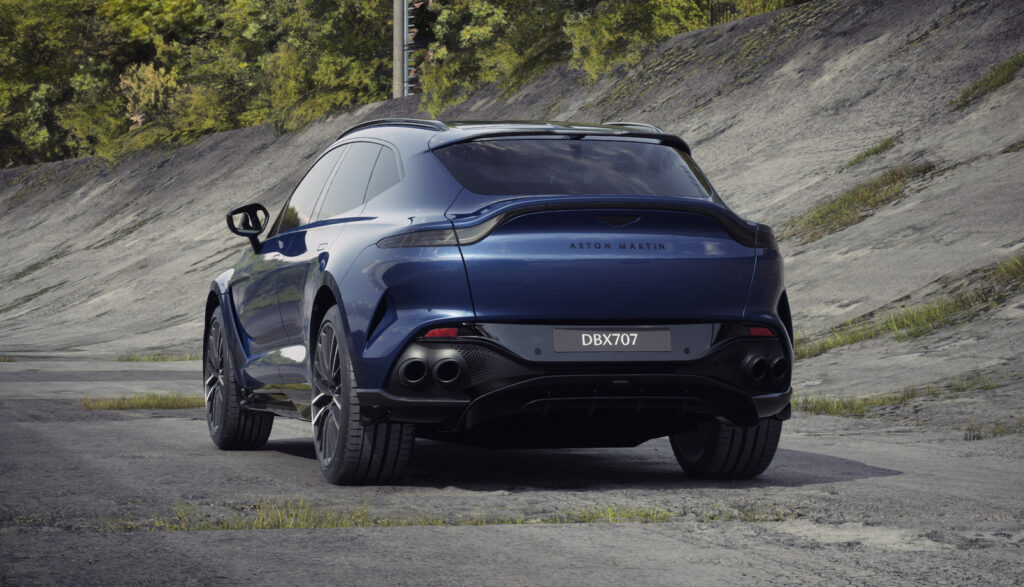 The DBX 707 is furnished with a quad exhaust system, generating a deep and powerful sound that displays the magnificent performance of this SUV. The four tailpipes are made from high-quality stainless steel, adding to the beauty and class of this vehicle. Additionally, they play an essential role in helping the engine evacuate exhaust gases efficiently.
ADAS (Active Drive Assistance)
Access to several features, including adaptive cruise control, automatic emergency braking, park assist, blind-spot warning, lane change warning, backup camera, door exit warning, forward collision warning, speed limiter, and even a traffic sign recognition system, is made possible by the vehicle's active driver assistance system.
What To Look For While Buying An Aston Martin DBX 707?
If you're looking to buy a used Aston Martin DBX 707 at great dealership, here are some tips to help you get the right vehicle for your needs:
Research
When it comes to choosing the right Aston Martin DBX 707, research is essential. There is a range of different years, trims, and models available, each providing different levels of performance and features. The first point to consider is the year of manufacture. The DBX 707 was introduced in 2020 as the first SUV by the brand, but there are now several more recent models available that come with improved performance, additional features, and greater refinement. Look for reviews, consumer reports, and other information about the vehicle's reliability and performance.
Budget
Determining your budget is a key factor when it comes to buying a used Aston Martin DBX 707. When looking for the right vehicle, consider what kind of expenditure you are willing to make and estimated monthly payment. The price of the vehicle can vary depending on model and year and will likely depend on its condition and the number of miles it has been driven. You can also get this car on lease specials if you don't want to spend the whole amount in one go.
Inspection
Before you buy an Aston Martin DBX 707, it is important to have it inspected by an experienced mechanic. This inspection should cover the vehicle's engine, transmission, suspension, as well as other systems that are critical for the performance of this high-performance car. The mechanic will be able to detect any potential issues and advise you accordingly. Additionally, they will be able to tell you if any parts have been repaired or replaced in the past.
Test Drive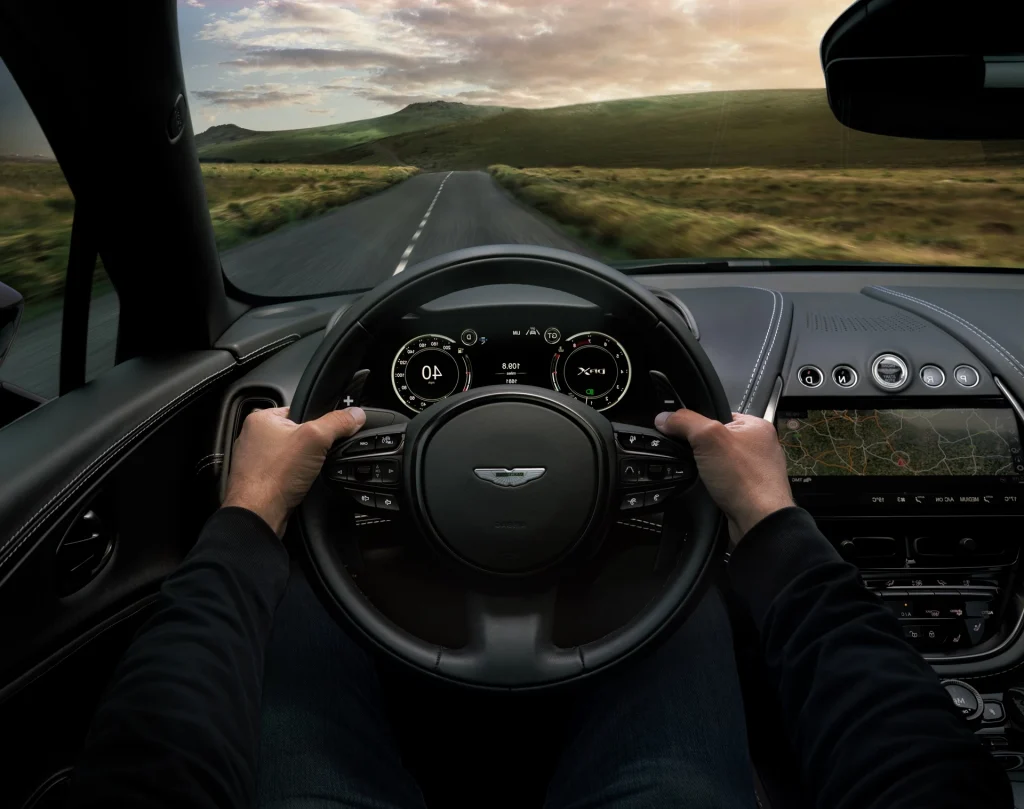 Take a test drive of the vehicle you're considering buying. It gives you an idea of how it drives, its controls and features, and how comfortable it is. Make sure you take the car on different kinds of roads and terrain so that you can get a better idea of its capabilities. Additionally, taking the help of your mechanic during this process will give you added assurance about the overall condition of the vehicle.
History Report 
When it comes to purchasing an Aston Martin DBX 707, check the vehicle's history report in order to make sure that you are making a sound investment. A thorough inspection of the car should reveal any signs of previous damage or accidents that may have occurred. Additionally, a detailed report from the manufacturer can provide information about the car's maintenance history and previous owners, allowing you to make an informed decision.
Negotiate
Keep in mind that this is a high-performance vehicle with a range of features that can justify a higher asking price. However, there are also several factors to consider to get the best deal possible. These include the car's condition, its mileage, as well as any additional extras that may be available. By taking the time to negotiate and haggle a little, you can often get a good deal on your Aston Martin DBX cost.
Warranty
When it comes to purchasing a used Aston Martin DBX 707, investing in an extended warranty is an essential step in ensuring that your vehicle is protected from unexpected expenses. It can range from a few months to several years, depending on the age and condition of the car. Warranties are available for both new and pre-owned vehicles and will provide you with peace of mind. Ensure that the terms of the guarantee are clearly outlined before making a purchase so that you know exactly what is covered and for how long.
Get Your Hands On Aston Martin DBX 707 At Our Dealership!
At our dealership, we have used 2023 Aston Martin DBX models available for purchase. We offer great prices with excellent customer service, so you can be sure to get the best deal possible on your dream car. For more information about our inventory or financing options, please don't hesitate to contact us today!