Make the most of your shopping experience by creating
an account. You can:

Access your saved cars on any device.
Receive Price Alert emails when price changes,
new offers become available or a vehicle is sold.



Not registered? click here
The Aston Martin DBX: A Practical Choice For Everyday Use
The Aston Martin DBX is the first SUV ever made by Aston Martin, a British luxury car company. In 2019, it came out as a high-end luxury SUV that was made to compete with other luxury SUVs. While it's the first car from Aston Martin, it's quickly gaining popularity among enthusiasts. Its refined and luxurious features make it a top choice for those who seek power and comfort in their vehicles.
Not only does the DBX look great, but it also offers practicality. Let's look at some features that make it ideal for everyday use!
Why Does The DBX Stand Out From Other Luxury SUVs?
Here are some possible headings to explain why the DBX stands out from other luxury SUVs on the market:
Unique Design
The DBX has an iconic, immediately recognizable design. It features sharp lines, dynamic curves, and a modern look emphasizing luxury credentials. The front grille is striking with its diamond-patterned mesh and LED headlights. The vehicle's rear boasts a sculpted bumper, an integrated spoiler, and sleek tail lights that make it look as good from the back as it does from the front.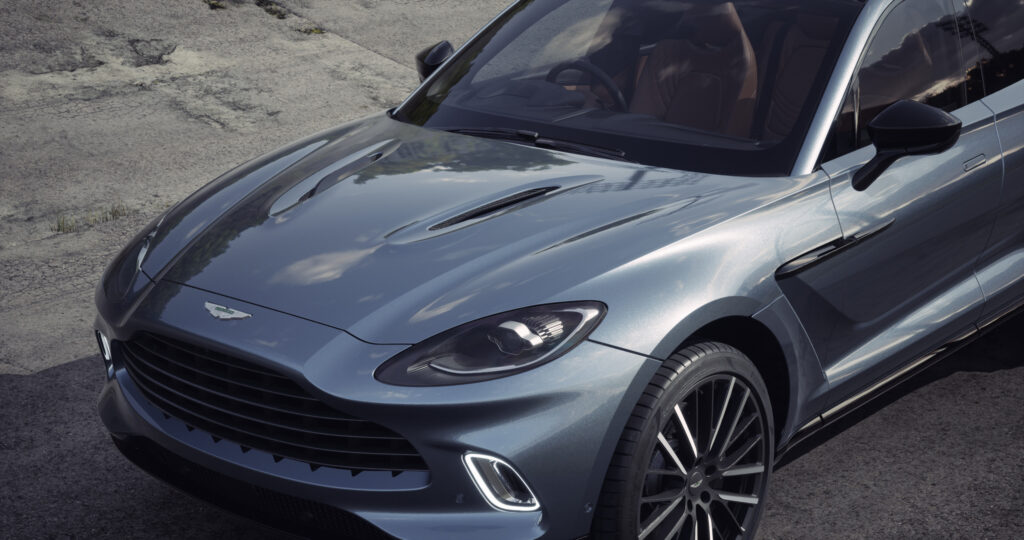 Capability and Performance
The DBX has an impressive powertrain that lets you drive smoothly and with confidence, no matter what kind of road you're on. It's equipped with new turbochargers with a V8 engine that produces 542 horsepower with 900 NM torque, making it one of the most powerful SUVs on the market. The DBX also has a special air suspension system on the front axle that can adjust to different road surfaces to make the ride more comfortable.
Technology and Safety Features
The DBX is full of modern technology and safety features, making it a great choice for drivers today. It comes standard with a 12.3-inch LCD instrument cluster, a 10.3-inch infotainment touchscreen, voice recognition, wireless device charging, and a lot of driver assistance technologies, like automatic emergency braking and adaptive cruise control.
Convenience and Comfort
The DBX offers several features designed to make your life easier. It has ample cargo space for storage and a hands-free power liftgate that makes loading and unloading a breeze. The interior theme is crafted with premium materials that provide comfort and luxury, while the ventilated seats offer adjustable lumbar support for those long drives.
What's Better: Buying A Used Aston Martin SUV Or A New One?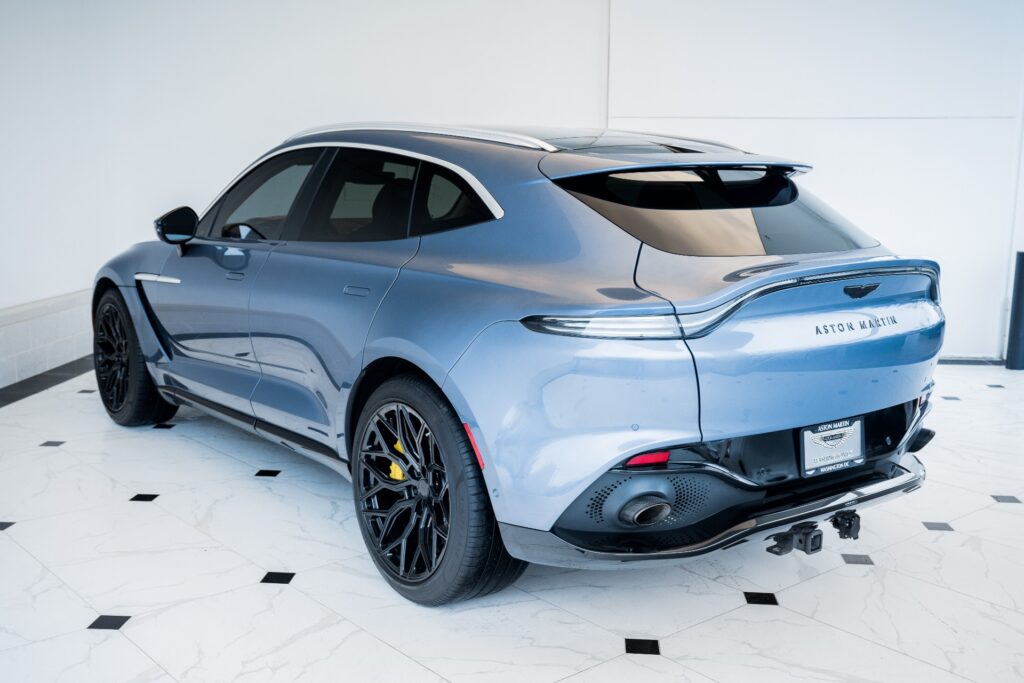 Whether it is better to buy a used Aston Martin SUV or a new one depends on several factors, such as your budget, preferences, and priorities. Here are some benefits and drawbacks to consider:
Pros Of Buying A Used Aston Martin SUV
There are several benefits to buying a used Aston Martin SUV.
A used Aston Martin DBX can be a great way to enjoy the luxury of an Aston Martin without spending a lot of money.

Depending on the model, a used DBX is up to 40% cheaper than its new counterpart. This means you can enjoy this powerful SUV's features and performance at a much lower price.

A new car usually loses a lot of value in the first few years after it is bought. New cars can experience a loss of value of up to 15-20% or more in the first year and up to 40% or more in the next three years. In contrast, a used car has already gone through most of its depreciation cycle, meaning that the amount you pay for it is closer to its actual value. A used Aston Martin DBX may hold its value better than a new one.

Due to less risk, the insurance rates for a used Aston Martin DBX are often much lower than those for a new one. Used cars usually come with fewer problems and are usually in better shape than their newer counterparts. Also, insurance companies usually offer discounts for cars with advanced safety features like the DBX's emergency braking system.
Cons Of Buying A Used Aston Martin SUV
There are some things to think about before you buy a used Aston Martin SUV.
Possible unseen issues:

Buying a used car can mean taking on certain risks, such as hidden damage or mechanical problems that are not immediately apparent. Repair and maintenance costs can add up quickly and wipe out any savings you might get from buying used.

Limited selection:

The selection of used Aston Martin DBX models will be more limited than that of new ones. Finding the exact model, color, or trim you're looking for can be difficult. You may have to settle for a different model or wait for the right one.

Less warranty coverage:

If you buy a used Aston Martin DBX, you will lose the security of a manufacturer's warranty. This means that you will have to pay for any repairs or maintenance out of your own pocket. This could be expensive if the car has major problems that the factory warranty would have covered if it had been bought new.
Pros Of Buying A New Aston Martin SUV
Buying a new Aston Martin SUV has its benefits as well.
State-of-the-art features:

A new Aston Martin DBX will come with the latest technology and advanced driver assistance systems to provide a safe and comfortable driving experience. The SUV also comes with a 12.3-inch HD display, Apple CarPlay and Android Auto integration, a Wi-Fi hotspot, and a wireless charging pad, among other comfort and entertainment features.

Full warranty coverage:

When you buy a new car, the full warranty from the manufacturer will cover any repairs or maintenance that may be needed because of problems with the car. This could save you thousands in repair costs down the road.

More selection:

If you buy a new Aston Martin DBX, you can choose from more models, colors, and trims. You are more likely to find exactly what you're looking for when shopping for a new car.

Potential financing incentives:

Automakers often offer various incentives to encourage people to buy new cars. Some of these incentives are lower interest rates and cash-back offers, which make it possible for people to buy a new car while saving money. For example, some automakers offer zero percent APR financing for up to five years on select models.
Cons Of Buying A New Aston Martin SUV
It's also important to think about the bad things about buying a new Aston Martin SUV.
High price to buy:

Most new cars have high prices, and an Aston Martin DBX is no different.

The base model starts at around $169,000 and can quickly climb to over $200,000, depending on the options and upgrades selected.

Depreciation:

All cars depreciate over time, but new cars lose the most value in their first few years. If you want a car that will keep its resale value, buying a new Aston Martin DBX might not be the best choice.

Higher insurance costs:

Because the new Aston Martin DBX is a luxury car with a high price tag, getting insurance for it could be expensive. Insurance companies may charge higher premiums for such a high-end vehicle; some may even require additional coverage. It's important to consider the pros and cons of buying a used or new Aston Martin DBX before deciding.
Is The Aston Martin DBX A Good SUV?
The 2023 Aston Martin DBX 707 is a very good SUV. It is a luxurious, high-performance vehicle with a unique combination of style, performance, top speed, and a regular car. The DBX has received positive reviews from automotive journalists and customers alike, who have praised its design, handling, and features. It's a great option for those searching for an upscale SUV with the performance of a sports car.
Whether you buy a used or new Aston Martin DBX SUV depends on your needs and budget. Both options have advantages and drawbacks, so it's important to weigh them before deciding. You can also consult your local Aston Martin dealership for advice. They can give you the best advice on what option is right for you.
Get Your Dream Vehicle From The Aston Martin Washington Dealership Today!
If you're looking for a grand and powerful SUV, the Aston Martin DBX is an excellent choice. Whether you buy a used or new model, visit our Aston Martin Washington dealership for the best deals and offers. Our experienced sales team will help you find the perfect vehicle according to your lifestyle and budget. Visit us today and drive away in your dream vehicle!