Make the most of your shopping experience by creating
an account. You can:

Access your saved cars on any device.
Receive Price Alert emails when price changes,
new offers become available or a vehicle is sold.



Not registered? click here
Get A Breakdown Of The Latest Aston Martin SUV Price In 2023
Aston Martin, the iconic British car manufacturer renowned for its luxury sports cars and supercars, has recently entered the SUV market with its latest models. With their high-end performance capabilities and luxurious interiors, these SUVs are a must-have for any car enthusiast. If you're searching for one of these vehicles in 2023, it's important to have an understanding of the pricing breakdown. Here, we'll provide an overview of what to expect when shopping for Aston Martin SUVs in 2023.
Different SUVs By Aston Martin With Their Price Tags 
Aston Martin offers a range of SUVs that cater to different lifestyles and preferences. Here are some of the latest models:
Aston Martin DBX
The Aston Martin DBX is the brand's flagship SUV, and its blend of luxury, performance, and versatility is what makes it so desirable. Starting at $188,986, the DBX comes loaded with incredible features such as 21-inch forged alloy wheels, a 5.2L twin-turbocharged V12 engine that delivers 600 hp, and a spacious interior with room for five adults. It's sure to be a hit with luxury car lovers alike. For buyers, this is a great option if you're looking for an all-in-one package of luxury and performance.
Aston Martin DBX 707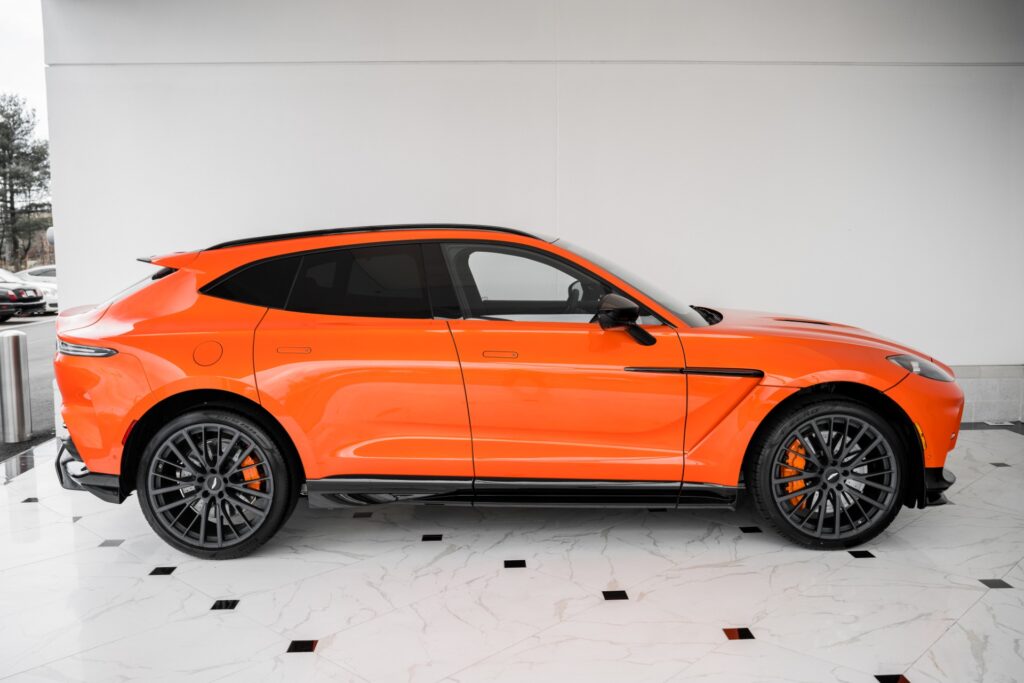 The Aston Martin DBX 707 is the more powerful and luxurious variant of the brand's flagship SUV. Starting at $207,680, this model offers an impressive blend of performance and style. The exterior design is sleek and sporty, featuring 21-inch alloy wheels and a striking grille with bold lines. At the heart of the DBX 707 is a 5.2L twin-turbocharged V12 engine that delivers 707 hp and an interior with luxury amenities like Nappa leather, sports ventilated front seats and advanced tech features.
The Aston Martin DBX 707 is an incredibly luxurious SUV that offers a range of advanced technology features, making it a popular choice for luxury car buyers. It comes with an impressive array of car safety including adaptive cruise control, carbon ceramic brakes, rear parking sensors, lane-keeping assist, and more.
Key Differences Of Aston Martin DBX Vs. Aston Martin DBX 707
We've heaped praise upon the DBX SUV for its beautiful design and sparkling dynamics, but the new DBX707 is a different animal altogether. Right now, it's the most powerful luxury SUV in existence. 
Here are the key differences between DBX vs. DBX 707:
Engine
DBX 707 has a more powerful twin-turbo 4.0-liter V8 engine. This engine produces 707hp and 627 lb-ft of torque, making it the most powerful Aston Martin SUV ever made. It introduces ball-bearing turbochargers and a bespoke engine calibration to generate even more power and torque. 
The Aston Martin DBX 707 has undergone several modifications to its engine to produce the most powerful and luxurious SUV available in the market. The 4.0L twin-turbocharged V8 engine features ball-bearing turbochargers and bespoke engine calibration, allowing it to generate an impressive 707 hp and 627 pound-feet of torque with the best fuel economy.
Nine-Speed Automatic Transmission With Wet Plate Clutch
The Aston Martin DBX 707 takes the luxury of the DBX and adds a new performance dimension. To take full advantage of this engine, the DBX 707 is equipped with a nine-speed automatic transmission with a wet plate clutch. This advanced transmission offers quick and smooth shifts and can handle the power output of the powerful V8 engine.
Ominous Design
The Aston Martin DBX 707 takes the luxury of the DBX and adds a new performance dimension. It features an aggressive design, featuring a bold grille with sharp lines and muscular wheel arches. The exterior is completed with 21-inch alloy wheels, giving the SUV a menacing presence on the road. Inside, this luxury SUV offers a range of advanced technology features, as well as a range of luxury amenities such as Nappa leather sports front and rear seats, a heated steering wheel, and a three-zone climate control system.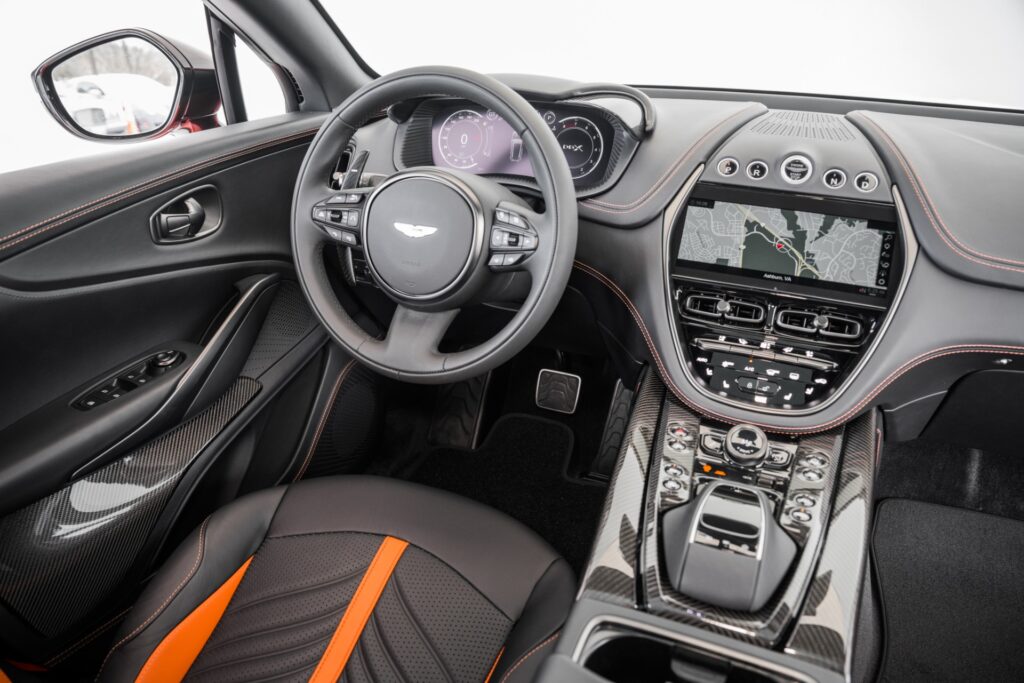 More Improved Air Suspension
The triple-capacity air chambers that make up the DBX707's basic air suspension are the same as those found on the DBX. For even sportier handling in the 707, the chassis has been specially adjusted. The air suspension is now optimized for a stiffer, more agile feel and features active roll control to reduce body roll.
New Electronic Limited-Slip Rear Differential
The e-diff in the DBX707 is brand-new and has been upgraded to withstand the massive amount of torque the V8 produces. The final drive ratio is now 3.27 instead of 3.07, like the standard DBX V8. The electronically controlled limited-slip differential helps to ensure that the full power of the engine is efficiently transferred to the ground. 
Infotainment System
Unique to the DBX707 is a new lower center console with various drive mode selection switches. These switches allow drivers to customize their driving experience, from leisurely cruises to aggressive performance driving. For example, the 'Traction Mode' switch gives drivers access to three custom traction settings: 'Comfort,' 'Sport,' and 'Sport+.'
How To Purchase Your Dream Aston Martin SUV At the Best Price?
To purchase an Aston Martin from Aston Martin Washington DC at a great price, you can follow these steps:
Browse The Website
Visiting Aston Martin Washington DC is the perfect way to explore the latest models, features, and luxury amenities that the brand has to offer. From luxurious sports cars like the Aston Martin DBX 707 to family-friendly SUVs such as the DBX, there's something for everyone.
Schedule A Test Drive
If you're interested in purchasing an Aston Martin SUV, the best way to experience the vehicle is by scheduling a test drive. This will allow you to see the vehicle in person and determine which model best suits your needs and preferences.
When you schedule a test drive at Aston Martin Washington DC, our knowledgeable staff will answer any questions you may have about the models you're interested in.
Secure Financing
After selecting your dream Aston Martin SUV, our experienced finance team will assist you in finding the best financing package for your budget. Our team can provide assistance with securing a loan or leasing option and helping to find the best rate so that you can drive away in your dream SUV.
Work With The Sales Team
Work with the sales team at Aston Martin Washington, DC, to select the features and options you want for your vehicle. Our expert team is here to help you find the perfect balance of luxury and performance for your Aston Martin SUV. They will help in scheduling delivery and ensuring that your experience with our dealership is a fantastic one.
The Purchase
It's always a good idea to contact Aston Martin, Washington DC, directly to discuss your specific needs and preferences and to confirm the purchasing process. By calling or visiting the dealership, you can get personalized advice from knowledgeable sales staff and get up-to-date information about any leasing specials or promotions that may be available.
Visit Aston Martin Washington DC Dealership Today!
Take a step towards your dream of owning an Aston Martin SUV today by visiting our dealership in person or browsing our website. Our sales staff is here to answer any questions you may have and help you find the perfect model for your lifestyle. We look forward to helping you get into the driver's seat of a luxurious and iconic Aston Martin SUV. Contact us to schedule a test drive and get your dream vehicle today!