Make the most of your shopping experience by creating
an account. You can:

Access your saved cars on any device.
Receive Price Alert emails when price changes,
new offers become available or a vehicle is sold.



Not registered? click here
The Aston Martin V8 Vantage for Sale: Is It the Right Car for You?
The Aston Martin V8 Vantage is an iconic masterpiece that stands out both on the race track and in luxe collections alike. With its modern AI technology and classic design, it's no wonder this model is highly sought after. Despite some initial costs associated with its rarity, investing in the V8 Vantage provides good returns due to its lasting value and resurgence in luxury car collections. Well, if you intend to make this sports car your own, take advantage of the chance to visit our trusted dealership, Aston Martin. With a wide selection of available Aston Martin models, you are sure to find the best fit for your lifestyle. Whether you need a new car or a used one, we have it all.
The History of the Iconic Aston Martin V8 Vantage: Why Is It a Collector's Dream?
The Aston Martin Vantage V8 has been around for a long time and has been made in many different models and styles. The first V8 Vantage model came out in 1977, and cars with that engine were made until 1989. The last version of this early model had a 5.3-liter V8 engine that could make up to 432 horsepower. After 1989, other cars came with upgrades.
1993 V8 Vantage Volante
This was the first of the modern V8 Vantage models. The Volante (Series 3) 5-speed is a powerhouse of an automobile. Its naturally aspirated V-8-cylinder petrol engine has the nimble engine code AM Tadek-Marek V8, letting you experience satisfaction with every rev you give it. But this prestige comes at something other than the expense of the environment. Its curb weight of 4079 lbs (1850 kg) lets you know it's not dogmatic. When given full throttle, this car exerts an impressive 375 PS (370 bhp; 276 kW) at 6000 rpm and a generous 500 Nm (368 lb) of torque. It'll take you anywhere you want to go with ease.
2005-2017 V8 Vantage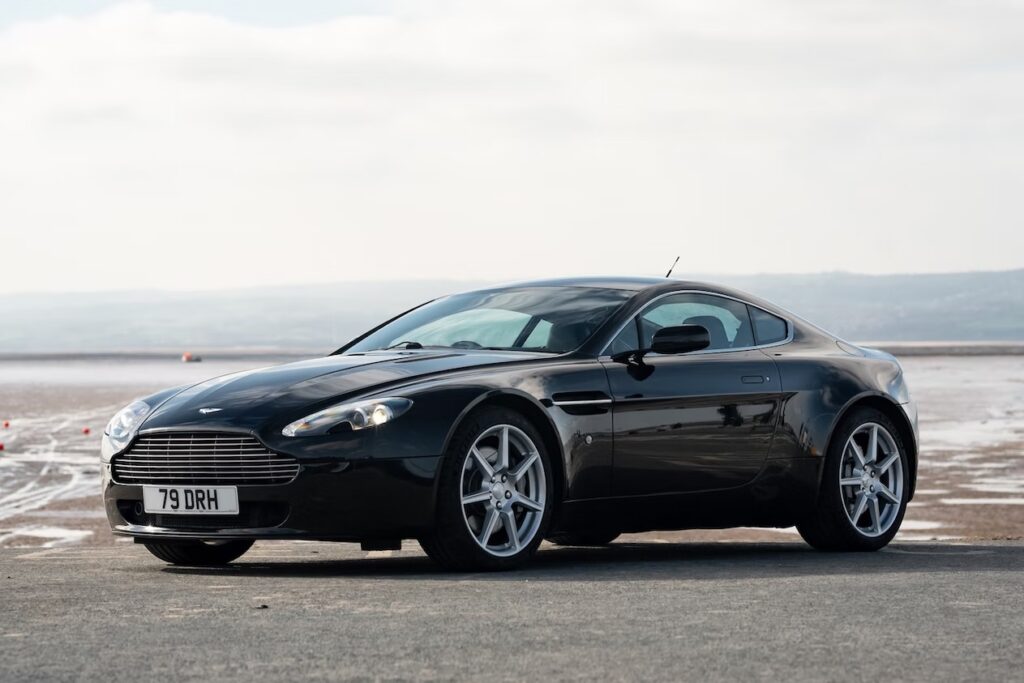 The V8 Vantage, which was made from 2005 to 2017, was the car that came after the Volante, and it was better in every way. It featured a 4.3-liter V8 engine with either 380 or 420 horsepower, depending on the model you opted for. Owners of Aston Martin vehicles all over the world have relied on this engine for many years because it is so efficient and dependable. The interior of this model was also updated. New materials, heated seats, and trims give it the luxurious feel that you'd expect from a car of this caliber.
2007 V8 Vantage N400
The V8 Vantage N400 from 2007 was an upgraded version of the standard model that was faster and looked better. It offered a unique combination of power and luxury. Impressive even by today's standards, the powertrain featured an advanced V8 engine with dry sump lubrication that could deliver up to 420 horsepower. Positioned lengthwise in the front of the vehicle, this engine also featured four valves per cylinder and variable inlet camshaft timings to ensure maximum performance at every rpm.
With a bore/stroke ratio of 89mm/86mm and a displacement of 4280cc, its design was perfect for getting the most power out of it while keeping a high level of engineering and craftsmanship.
2009 V8 Vantage GT4
The V8 Vantage GT4 is the perfect blend of power and precision. It's a lightweight car with a 4.7 liter V8 engine that produces 420 horsepower and 490 NM of torque, giving it superior track performance over many other cars in its class. The powertrain also features dry sump lubrication, allowing for greater power output and improved agility.
The handling capabilities of the V8 Vantage GT4 are second to none, with a race-bred suspension system that's been tuned to perfection. You can really feel the connection between you and your car when driving the GT4. It's a truly exhilarating experience!
2017 V8 Vantage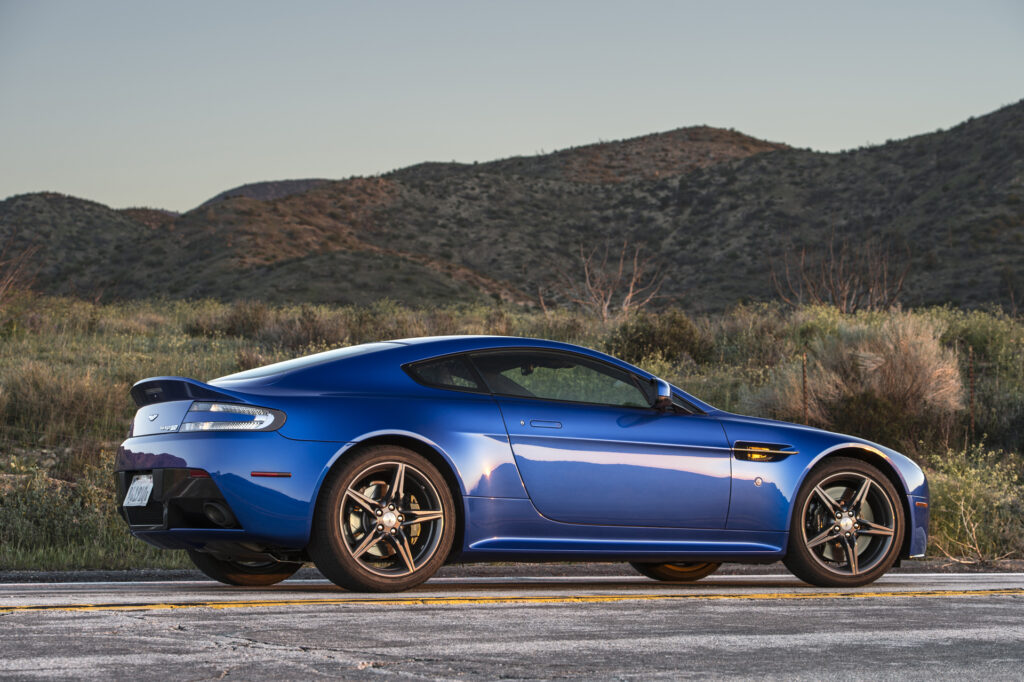 The latest model of the V8 Vantage is the 2017 V8 Vantage S. It's powered by a 4-liter, twin-turbocharged engine that produces 510 horsepower and 685 Nm of torque, giving it an impressive 0-60 sprint time of just 3.9 seconds. The car also features an improved suspension system with adaptive dampers and an 8-speed automatic transmission for smoother shifts. The exterior has also been revised to give the car a more aggressive look and feel, while the luxurious interior features supple leather seats and ergonomic switchgear.
Why Buying an Aston Martin V8 Vantage Is a Sound Investment
The Aston Martin V8 Vantage is a good choice for a car purchase for a number of reasons. Here are some of the basic factors that make it a worthwhile investment:
Iconic Design
The V8 Vantage is a famous car that has been made to look elegant and sophisticated for a long time. It has a modern, sporty appearance that draws from the brand's extensive racing history. This classic design is something that never goes out of style, and it will continue to hold its value for years to come.
Superior Engineering
The V8 Vantage is just like other Aston Martins in that it has great engineering. It has been designed with precision and attention to detail, using the latest technology to create a high-performance sports car that is both powerful and agile.
Driving Experience
The V8 Vantage is not just a beautiful car to look at; it is also an incredible driving experience. The vehicle has been designed to provide exceptional handling and safety features like parking sensors and a backup camera, making it a joy to drive on both the track and the open road.
Limited Production
The V8 Vantage has only been made in small numbers, which makes it a rare and unique car. Due to the fact that it is hard to get, its value is likely to go up over time, making it a good investment.
Strong Resale Value
The V8 Vantage has a high resale value because of its well-known design, high-quality engineering, and a small number of units made. This means that if you do decide to sell the car in the future, you can expect to receive a good return on your investment.
Living the Dream: What Is the Process to Own an Aston Martin V8 Vantage?
Here are the general steps for buying an Aston Martin V8 Vantage with Aston Martin Washington DC:
Research
Before buying an Aston Martin V8 Vantage, you should do your research to determine which model, body style, and specifications meet your needs and budget. You can browse the Aston Martin Washington DC website or visit the showroom to learn more about the available options. We also have a team of car experts who are available to answer your questions and guide you through the research process.
Financing
Once you have determined which V8 Vantage model you want to purchase, you will need to arrange for financing. Our finance department can help you secure financing through its network of lenders. Some financing options available to you include lease payments, cash payments, and trade-in values.
Test Drive
Before making a final decision, it's essential to take the V8 Vantage for a test drive. This will allow you to get a feel for the car and determine whether it meets your expectations. We have knowledgeable staff members who can answer any questions you may have about the vehicle before you hit the road. During your test drive, you'll get to experience firsthand the power and performance that this luxury sports car has to offer. 
Purchase
When you're ready to buy an Aston Martin V8 Vantage from our dealership, our sales associates are always there every step of the way. They can provide assistance in finding the perfect model for your needs as well as negotiate an agreeable price point. Once everything is finalized, they'll help complete all the necessary paperwork so that all you have to do is sign on the dotted line and enjoy your new ride.
Delivery
Once the purchase is complete, you can take delivery of your new V8 Vantage. We provide delivery services for customers who live near the location of the dealership. Our staff will personally deliver your vehicle right to your doorstep so that all you need to do is hop in and enjoy.
After-Sales Service
At Aston Martin Washington DC, we strive to provide excellent customer service long after their purchase has been completed. We offer routine maintenance services such as oil changes and tire rotations, as well as repairs, should any issues arise down the road. Our experienced technicians are professionals in all makes and models of luxury sports cars, so they know precisely how to keep your vehicle running like new for many years to come.
Get Your Hands on the V8 Vantage With an Aston Martin Washington Dealership!
The Aston Martin V8 Vantage is a great car that will be fun to drive for years and give you a great return on your money. With the help of Aston Martin Washington DC, you can purchase a V8 Vantage and start living the dream today! For similar cars or vantage new cars, our sales rep will guide you throughout. Contact our showroom or visit our website to get an average price and great value for your money.