Make the most of your shopping experience by creating
an account. You can:

Access your saved cars on any device.
Receive Price Alert emails when price changes,
new offers become available or a vehicle is sold.



Not registered? click here
DBX 707 For Sale: Where To Look And What To Consider
Aston Martin is the most well-known name when it comes to luxury sports cars, and the DBX 707 is no exception. The DBX 707 offers many great features, such as a sleek design, a powerful engine, and a luxurious interior. So, if you want to buy one of these sleek, strong cars, we can help you find the perfect DBX 707 at the Aston Martin Washington dealership for a price that can't be beaten. We also provide professional advice to help you make a prudent decision. Get to us, take a test drive of your dream car, and select one for your personal use now!
Why The Aston Martin DBX 707 Is So Popular Among Luxury SUV Enthusiasts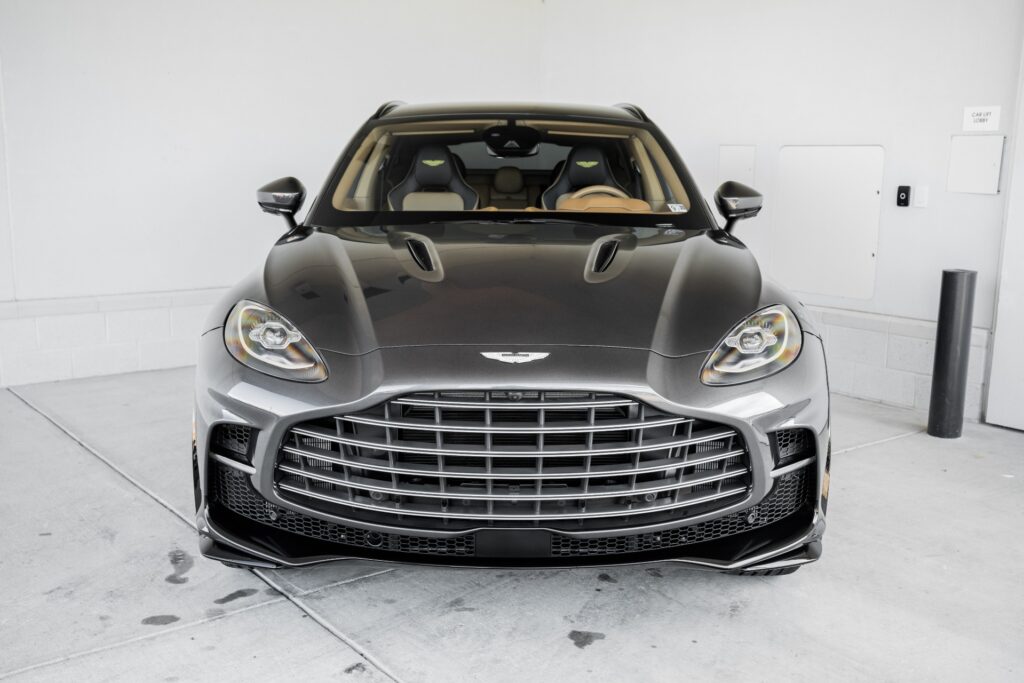 The Aston Martin DBX 707 is popular among luxury SUV enthusiasts for several reasons:
Powerful Performance
Experience the raw power and unparalleled performance of the Aston Martin DBX 707. The turbocharged 4.0-liter V8 engine pumps out 700 horsepower and an impressive 664 lb-ft of torque, making it one of the most potent vehicles on the road. Adding to its performance, the 9-speed automatic transmission provides seamless shifting between gears, and a dual-clutch mechanism offers a smooth ride at every speed.
With both all-wheel drive and top speeds of 181 mph, you can have total confidence when driving this unique crossover SUV. If that wasn't enough, the DBX 707 could reach 60 mph in less than 4.3 seconds, a feat few other cars can match. Drive with power and class today with Aston Martin's amazing DBX 707!
Sophisticated Design
The DBX 707 gives you the best driving experience possible, starting with a stylish look that includes a sleek body, eye-catching headlamps, and LED lighting. Inside, the front bucket seats of this high-end car go above and beyond expectations. They can be adjusted in 12 different ways, have different heating levels, and have three settings for the driver's convenience. Moreover, the back of the seat may be split and folded, and the middle armrest can be folded. You can rely on alloy wheels with all-season tires for the ride itself, which are well-suited for wherever your next journey takes you.
Advanced Technology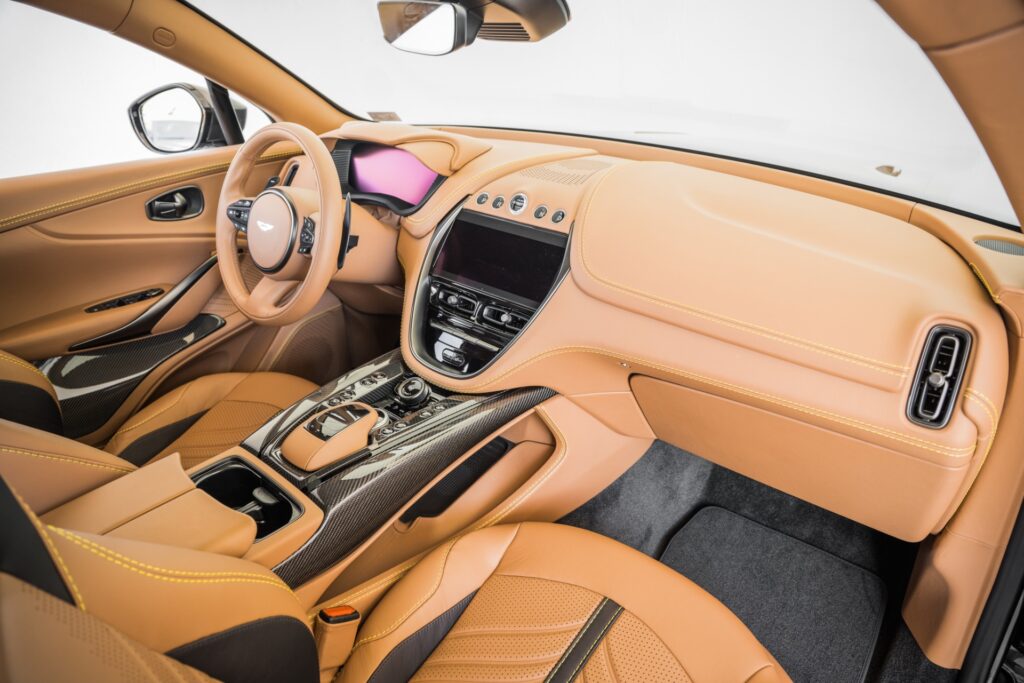 The DBX 707 features advanced technology that enhances safety and comfort. The car has a suite of driver assistance features, including Blind Spot Monitoring, Rear Cross Traffic Alert, airbags, and Lane Departure Warning. Additionally, the adaptive cruise control ensures you stay at a safe distance from other vehicles on the road.
To make you feel more comfortable, high-tech features like keyless entry, heated mirrors that help you see better in cold weather, and an external temperature display are added.
Brand Reputation
When you buy an Aston Martin, you buy into the company's legendary reputation for excellence. This British luxury brand is known for its sleek designs and high-tech performance, so if you buy a DBX 707, you can expect it to be of the highest quality.
The 707's Versatility
The 707 is a perfect blend of versatility and style, making it a great choice for those who want to stand out on the road. With its five driving modes, it sets an example of versatility that suits everybody's needs. The "Terrain" and "GT" modes are designed for off-road driving; the "Sport" and "Sport+" modes are for high performance; and the "Individual" mode allows the driver total control over almost all aspects of the car, including the suspension, steering, and exhaust.
What Factors Should You Consider Before Buying The Aston Martin DBX 707?
When buying an Aston Martin DBX 707, here are some factors to consider:
Purpose
Before buying an Aston Martin DBX 707, it is important to consider the purpose for which it is being bought. Is it for daily commuting, business use, a weekend getaway, or something else? The purpose of the car will help determine its features and the type of condition that is required. 
Features
The Aston Martin DBX 707 has many great features, like a V8 engine, an all-wheel drive system, power steering, and adjustable suspension. As such, you should carefully consider the features they would like in their vehicle. Some features may be more critical than others, depending on how the vehicle will be used. 
Condition
Before buying a used car, it should be carefully checked to make sure it meets both the law and your needs. Furthermore, buyers should keep an eye out for any signs of external damage or tampering that may indicate prior use or abuse of the car.
Dealer
When looking for a luxurious car like the Martin, you should thoroughly research any dealerships involved in the sale of this particular model. It's essential to make sure that the dealer is reputable and trustworthy before making any purchases. Checking consumer feedback on websites as well as asking around friends and family can help determine if a dealer is reliable or not before investing in a car.
Insurance
It's essential to look into insurance options. Different insurance companies may have different coverage levels and premiums, so potential buyers should compare policies before committing to one company over another. Additionally, certain states may require certain types of insurance, so it's important to research these requirements before finalizing the purchase of a new car. 
Resale Value
You should always keep resale value in mind when looking at an Aston Martin DBX 707. Even if you're not planning on reselling your car anytime soon, keeping track of its resale value could prove helpful down the road when upgrading or trading for another model within the next few years. Different makes and models can have very different resale values. Doing research on current trends for vehicles like the one you're thinking of buying can help you decide what to do and give you an idea of what to expect from future sales of your vehicle.
Where Can You Find DBX 707 For Sale?
The following locations have Aston Martin DBX 707s for sale:
Aston Martin Dealerships
Aston Martin dealerships have a selection of DBX 707 models for sale. These cars are typically in excellent condition, as the dealership personnel takes great care to ensure that these vehicles are up to Aston Martin standards. Additionally, customers can expect to receive a warranty when they purchase a DBX 707 from an authorized Aston Martin dealership like ours.
Online Marketplaces
It is possible to find used DBX 707s for sale on online marketplaces such as Autotrader. Even though the cars on these sites may be in different conditions, they are often less expensive than buying from a dealership. It is important to thoroughly inspect any car before making the purchase, however, and customers should also use caution when dealing with private sellers online.
Luxury Car Dealerships 
Specialized luxury car dealerships often feature high-quality used DBX 707s for sale. These vehicles typically receive excellent maintenance and have extra features added by previous owners, which can appeal to more buyers. Additionally, these dealers offer robust warranties on their selected vehicles and provide financial options for customers looking to buy a DBX 707 without breaking the bank. 
Private Sellers 
There are a lot of private sellers of used DBX 707s who list their cars online or in local newspapers or magazines with classified ads. Although buying from private sellers can be riskier than purchasing from authorized dealerships or luxury car dealers, it can be much cheaper if purchasers are willing to put some effort into researching the background of the vehicle before committing to the purchase.
Auctions 
Auctions are another way to get a used DBX 707 for less money. Cars sold at auction usually require intensive inspections beforehand due to a lack of information about their history or previous ownership, but this could be an excellent way for savvy buyers looking for great deals on second-hand cars without compromising too much on quality.
How Is Aston Martin Washington DC, The Best Option To Go For?
Aston Martin Washington DC is an authorized dealer of Aston Martin cars, including the DBX 707. Here are some explanations as to why it would be the best choice to make:
Wide Selection Of Vehicles
When customers come to us, they can choose from a wide range of high-end cars with the latest technology and stylish designs. From the brand new Vantage Roadster to the iconic DB11, there is something for every driver. Customers can even customize their vehicles with special features and packages that are exclusive to Aston Martin Washington DC.
Certified Pre-Owned Program
We also offer an extensive Certified Pre-Owned program featuring premium cars that have been thoroughly inspected and serviced by factory-trained technicians. Each car has undergone a rigorous multi-point inspection, so customers can be sure they are purchasing quality vehicles that will look great and perform reliably for years. 
Expert And Friendly Staff
The staff at Aston Martin Washington comprises experienced professionals passionate about what they do. When it comes to choosing the ideal car or setting up financing alternatives, they go above and beyond to make sure that each customer has the greatest support possible. Customers can schedule service appointments for maintenance and repairs or locate additional accessories for their cars using the knowledge of the dealership's staff.
Financing Options
Customers can get flexible financing options at our dealership that are made to fit any budget or way of life. The dealership works with top banks to make sure that each customer gets the best rate on their car loan and a convenient payment plan that is made just for them. This makes it easy for drivers to get behind the wheel of a luxury car without breaking the bank.
Service & Maintenance
We understand that maintaining a luxury vehicle requires attention to detail and specialized care. That's why they offer comprehensive service and maintenance packages designed to keep cars running smoothly and looking great year after year. Their expert technicians use factory-authorized parts, tools, and diagnostic equipment when servicing vehicles, ensuring optimal performance every time. 
Customer Satisfaction Is A Priority
Above all else, the Aston Martin dealership puts customer satisfaction first in everything they do, from sales to service appointments. They understand how important owning a luxury car is, which is why they strive for excellence in all aspects of customer relations in order to make sure each person leaves happy with their experience at the dealership.
Get Your Hands On The Aston Martin DBX 707 Today!
If you're searching for some pre-owned 2023 Aston Martin DBX or similar vehicles, look no further than Aston Martin Washington, DC. With our wide selection of vehicles and expert advice on financing, we have everything you need to get behind the wheel of your dream car. Stop by the dealership today and find out why Aston Martin Washington DC is the best option for luxury cars in the area! Get the desired Aston Martin model at economical pricing and enjoy the ride. Contact us right away to learn about the current stock prices.